Announcement: Zerynth r2.0.0 (Beta) is out, help us testing it!
Hello from the Zerynth team!
We are very pleased to announce that in January 2017 there will be a new Zerynth release: Zerynth r2.0.0!
We are working hard to improve every single aspect of the Zerynth Stack to give you the best user experience possible. But to do this we need your help. Please help us testing the Zerynth r2.0.0 Beta version and report in this thread on our community forum any bug or suggestions to improve.
Zerynth r2.0.0 Beta – Installation Guide
To try the Beta version of Zerynth r2.0.0 you need to install it on your platform.
WARNING: Moving from Zerynth r1.0.* to version r2.0.0 some precautions must be taken to avoid incurring in problems. More info in the section Migration Guide of the documentation.
First of all, you need to download the Zerynth Installer from the following links:
After accepting the agreement conditions, you can choose between two options to complete the installation: online and offline.
If you choose the online installation, the required files are downloaded from our online repository and automatically installed.
The Offline Installation meets the needs of educational and training courses, workshops or places with network and internet issues. It enables you downloading an offline package repository and share it with other people, to facilitate and speed up the installation operations.
Zerynth r2.0.0 Beta – New features and improvements
While other features and improvements are still in work in progress and will be published with the official release, here is what you will find in the Beta.
Zerynth Studio
Rebuilt from scratch (on top of NW.js browser and ACE editor) to be faster and more performant
Improved UI/UX:

Simplified Package Manager and "virtualization"
Batteries included. All the required libraries, packages and drivers are installed with the first installation.
New updates are shown through a notification icon in the bottom toolbar of the Zerynth Studio and can be all installed with a single click.
Multiple consoles with different windows

Main editor features:

Syntax highlighting
Syntax autocompletion
Automatic indent and outdent
Search and replace with regular expressions
Highlight matching parentheses
Displays hidden characters
Drag and drop text using the mouse
Line wrapping
Auto PEP8 funcionality
Useful shortcuts
Over 20 themes
Font size settings
At the moment, projects can't be sent to the Zerynth Cloud and cannot be published as community libraries. These features will be implemented with the official release of Zerynth 2.0.0
Toolchain
An important new Zerynth element has been introduced, the Zerynth Toolchain (ZTC).
The ZTC allows managing all the aspects of the typical Zerynth workflow. It can be used with a command line interface, like the common Linux, Windows or Mac terminals, or it can be integrated with a custom IDE.
You can find more info in the dedicated section of the documentation.
Documentation
This documentation applies for the Zerynth r2.0.0 Beta only. The current official version (r1.0.0) refers to the current official documentation (http://doc.zerynth.com/).
The r2.0.0 Beta documentation is accessible at docs.zerynth.com
Improved readability. We've added an index on the left of the page, so you can now walk through the documentation jumping from section to section without returning to the main page.
Improved content search. You can now search terms inside all the doc, and not only within the specific section you're reading.
Supported boards
Flip&click
Arduino Due
Particle Photon
Mikroe Quail
Arduino/Genuino Zero. It's now possible to program in Python for Arduino Zero, the most voted board in our latest survey.
All the other boards yet supported by the current official version (r1.0.0) are coming soon also for Zerynth 2.0.0
Two more things…
Zerynth Advanced Device Manager
The Zerynth Advanced Device Manageris the next Zerynth big thing: a device manager that will be compatible with many cloud providers (like Azure, Kinetis, Bluemix, Amazon), exposing a simple API-based interface for data gathering, actuation and mobile integration.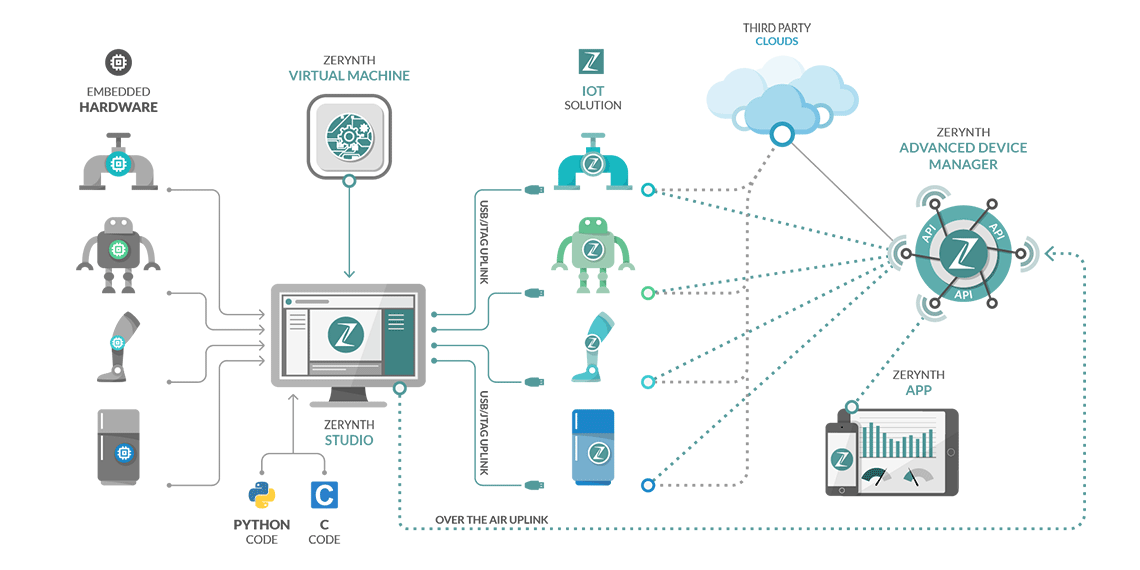 Zerynth App
We are also working to make the Zerynth App the definitive tool for prototyping UI for connected devices. The update will be released directly with the official release of Zerynth 2.0.0.

The Zerynth r2.0.0 January release will give you the possibility to do industrial developments of your IoT solutions thanks to Zerynth Studio PRO, that will include features like:
Power Saving
Selectable RTOS
Over the Air update development
Hardware-driven Secured Firmware burned on the device at industrial volumes
…and many more
Zerynth Studio PRO will be provided at yearly subscription basis (price info soon). As early adopter, you can receive a 6 months free-of-charge (100% discounted) access to Zerynth Studio PRO, by signing the following form.
Not interested in going PRO? No problem, Zerynth Studio Free will provide you all the features to prototype your IoT solutions!
Happy coding!