Once again Zerynth is featured on MicroSolutions, the Microchip digital magazine where you can discover the latest technologies and applications from Microchip and its partners.
In the September/October 2017 issue of MicroSolutions (page 27), you can learn how to use Zerynth, a Microchip 3rd party development tool, to program the Arduino MKR1000 in Python and create secure battery-powered projects for the Internet of Things.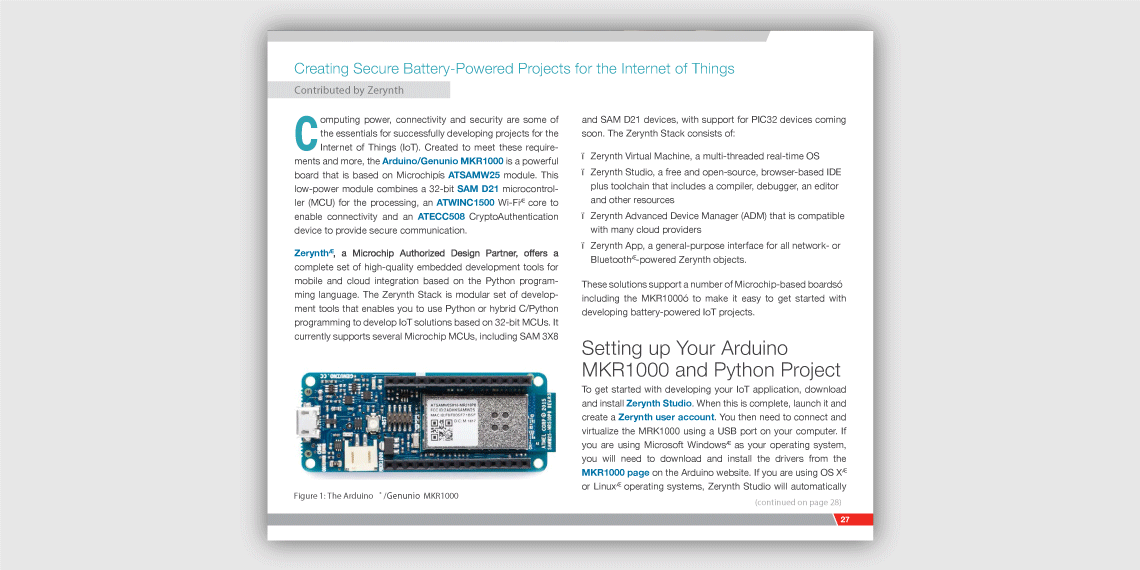 The MKR1000 is a powerful board based on Microchip's ATSAMW25 module, that combines the functionality of an Arduino Zero (already supported by Zerynth) with the connectivity of a Wi-Fi Shield. The design also includes a Cryptochip for secure communication and a Li-Po charging circuit that allows the Arduino MKR1000 to run on battery power or external 5V, charging the Li-Po battery while running on external power.
In this article, you'll see how:
setting up your Arduino MKR1000 and Python project
cloning the super simple "Blink" example (take a look at the code):
enabling IoT Security importing the lib.microchip.winc1500 library in the Zerynth script
enabling Firmware Over-the-Air (FOTA) Updates within Zerynth Studio PRO.
If you are ready to get started using Python to develop IoT and other projects using 32-bit MCUs, download Zerynth Studio for free and visit our Zerynth Academy to see additional tutorials and helpful resources that will inspire you.
Related Articles: