IoT Tech Expo London Olympia 18th April 2018. Zerynth, the middleware for IoT and Industry 4.0 applications, and global IoT cellular specialists Eseye are delighted to announce a partnership designed to make cellular Industrial IoT easier to program and deploy. Zerynth and Eseye will be demonstrating how customers can quickly and simply feed data onto the world's fastest growing cloud services provider, Amazon Web Services (AWS). Using the 4zerobox, an Industrial IoT board based on ESP32, powered by Zerynth, with the Eseye enabled AnyNet 2G click and API.
Learn more about Zerynth and Eseye
Zerynth is a provider of software tools that allows developers to program the most popular 32-bit microcontrollers in Python and C/Python language, and connect them to the top Cloud infrastructures. With headquarters in Pisa, Italy, and a global sales team, Zerynth offers an easy, powerful and affordable way of developing new IoT products and Industry 4.0 applications.
Eseye recognizes the complexity of global IoT deployments and simplifies the technical and management challenges. Through the cellular multi-profile/IMSI technology on the AnyNet Secure SIM card, Eseye provides a single, secure, managed, M2M end-to-end connectivity solution for Internet of Things (IoT) devices, across over 190 countries.
Utilizing global connectivity to deploy IoT onto AWS
Eseye's CTO, Ian Marsden, believes that "by 2021, more than 80% of all new IoT projects will be connecting devices to cloud applications" and that "working with the AWS IoT Platform Eseye has taken the technology one stage further, to create the easiest way to deploy IoT onto AWS today".
As a result of the AnyNet Secure's seamless AWS Marketplace integration, the AWS IoT Platform handles remote SIM activation as well as delivery of the required security information.
Zerynth's CTO, Giacomo Baldi, says: "We believe IoT is a Software Challenge. The Internet of Things revolution contributed to boosting the features of embedded hardware technologies, making it possible to create connected solutions with high performance and low cost. However, the software barriers to entry in this new technological environment are still high. As the need for embedded programming to support the latest IoT designs grows, companies and developers were (and still are) challenged identifying the right software solutions to bring IoT to life.  Our Mission is to reduce the complexity and increase the value of innovative and connected IoT solutions."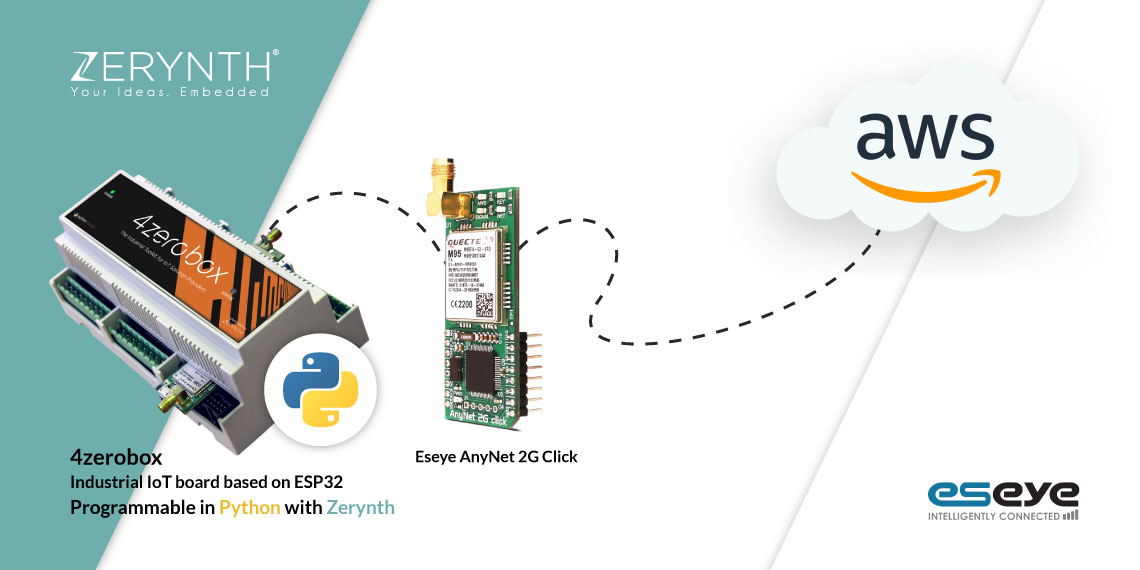 By fitting the AnyNet 2G click, developed by MikroElektronika, into 32-bit microcontroller boards mounting the MikroBUS slots (like the 4ZeroBox), and programming it with the dedicated Zerynth library, customers can exploit a highly available connection onto Amazon Web Services for reporting, remote control and security.
The Zerynth Eseye AnyNet Secure solution will be demonstrated on stand Stand No: 342 at the IoT Tech Expo on 18 and 19 April. More info here.