Do you know that feeling when you're explaining something you're passionate about? You can feel elevated energy around you, people are listening to you attentively, asking questions, sharing their view. Well that's what it was like at the London IoT Tech Expo yesterday.
With the release of Zerynth r2.1.1 just two days behind us, the timing for such an event was perfect.
Good morning London! We are at @iottechexpo showing the hottest features of our middleware for building #IoT in #Python🚀 #blockchain and #IoT integrations included 📍 #IoTtechexpo booth 342 pic.twitter.com/JB9TuKBeJm

— Zerynth (@Zerynth) 18 April 2018
Wolkabout demo – weather station idea
To start things off, take a look at the Wolkabout demo that we set up on the booth today.
Exchanging data between @MicrochipTech-based board and @WolkAbout dashboard using @Zerynth (#Python for #Microcontrollers and #Industrial #IoT).

Come to see it live at #IoTtechexpo booth 342 pic.twitter.com/pcK54u8elk

— Zerynth (@Zerynth) 18 April 2018
You can see the temperature, humidity, and pressure data from the Flip&Click being shown, in real time. We bet you want to use this for your own home weather station. We recently stepped into a technology partnership with Wolkabout, and as you can see, we are already putting it to good use.
Blockchain demo – things are simple with Python
If you take a look at this photo, you'll see how we have implemented blockchain and ethereum on microcontrollers and you can develop in simple Python.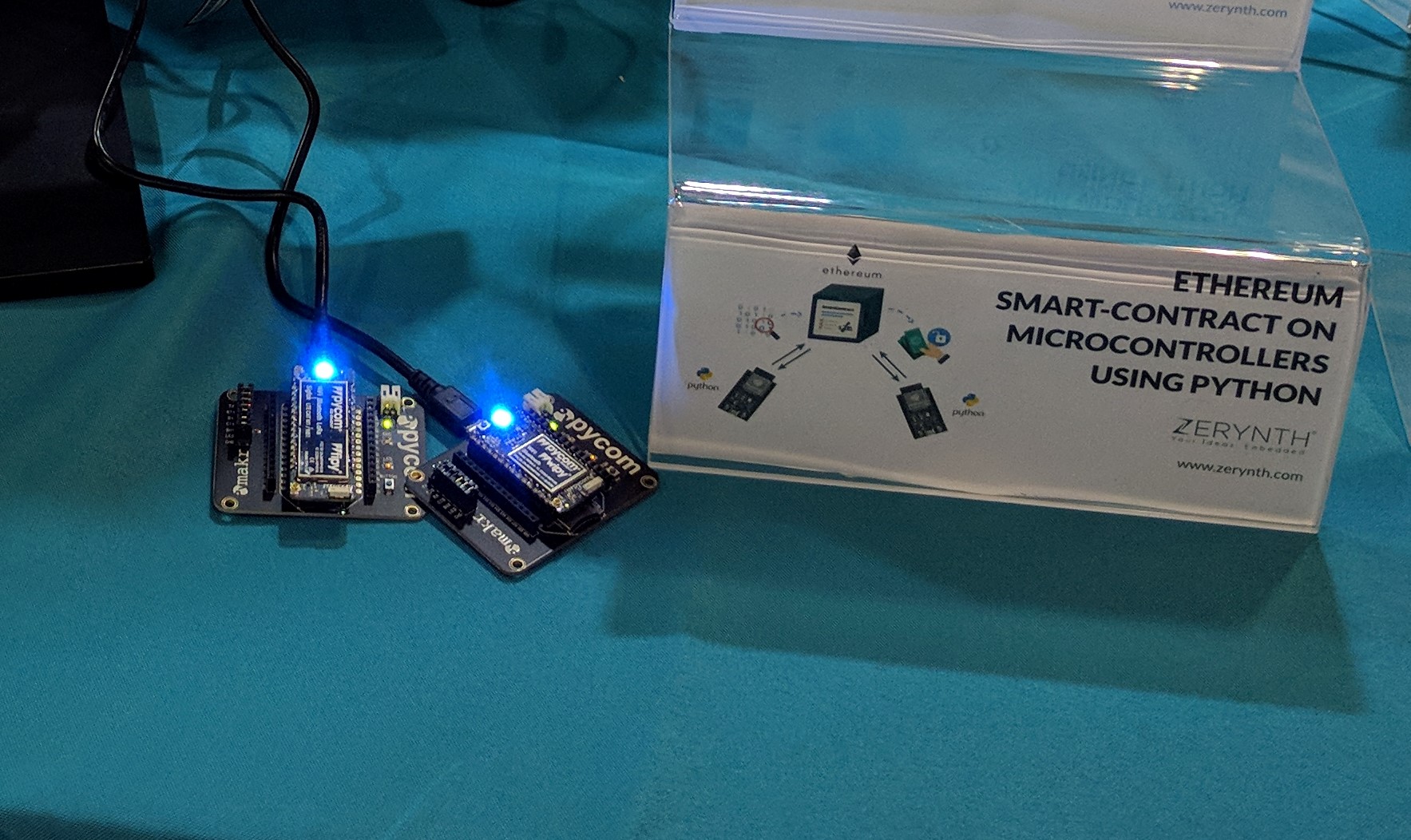 What can we say? We are certainly a trendy group of engineers. Blockchain is everywhere, so we are on top of things – providing you with great solutions in Python.
Where to find us
In case you missed us at the first day of the Expo, you can find us today at stand 342. Check out the floorplan, we are at the top right corner. Meet us and we can discuss this laters Zerynth 2.1.1 release and all the new things we are planning.
Until tomorrow,
The Zerynth team