Virtual events are now more important than ever. Since large gatherings are not in the picture this year, and we're all missing some human contact, virtual gatherings are the next best thing.
This is especially true for everyone's professional life. For companies, organizations, and people to reach valuable content and to share information webinars and online events are the most accessible option.
That's why we're happy that Zerynth was a part of such an event.
On Saturday morning, Luigi F. Cerfeda, our Head of Sales, held a talk at the Industria 4. VERO, an online event organized by the Italian Observatory on Digital Transformation. Luigi joined 20 other speakers in a 12 hour-long event designed to share more knowledge on implementing Industry 4.0 solutions and machinery.
The Zerynth Platform – enabling IoT solutions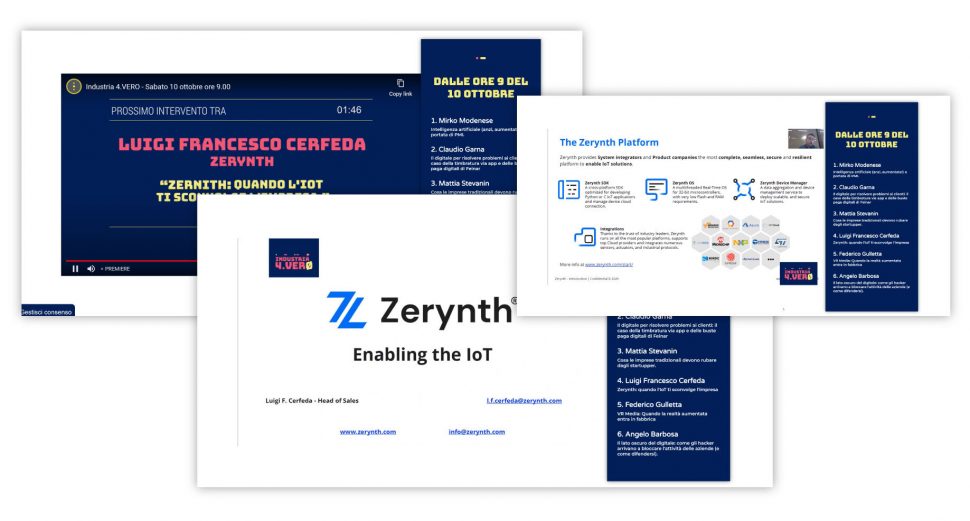 Luigi started off his talk by explaining what the Zerynth Platform has to offer. How it offers system integrators and product companies the most complete, seamless, secure, and resilient platform to enable IoT solutions.
And if you don't know, here's some more information about it.
The Zerynth Platform is made out of:
Zerynth SDK – A cross-platform SDK optimized for developing Python or C IoT applications and manage device cloud connection.
Zerynth OS – A multithreaded Real-Time OS for 32-bit microcontrollers, with very low Flash and RAM requirements.
Zerynth Device Manager – A data aggregation and device management service to deploy scalable, and secure IoT solutions.
He then moved on to talk about specific use cases where Zerynth tools helped to bring companies into this digital transformation. There was an example from all sorts of markets and industries. From industrial refrigeration, and extracting data from factory floors to an IoT platform for monitoring plant health and irrigation performances.
And don't worry, we will be sharing Luigi's full talk with you later.
More about the Industria 4. VERO
Industria 4. VERO was held on the 9th and 10th of October. It was designed to showcase the general state of the Italian digital transformation. And we over 1000 companies registered to hear the talks, we think that it had definitely succeeded. You can learn more about it on the official website.