With the theme this month being energy efficiency, we have prepared a white paper that covers the topic most thoroughly – "Energy Efficiency Optimization for Industrial Plants: Monitoring Parameters and Supporting Tools".
The white paper offers an overview of the process of energy consumption optimization and explains how Zerynth IoT technology is able to provide the most suitable tools for reducing energy costs.
In the white paper you will learn about:
Industrial energy efficiency in Italy: its current state and coming challenges
Problems of increasing energy costs
The importance of monitoring the Overall Equipment Effectiveness (OEE) value
IoT technologies' solution for monitoring consumption
Data historicization
Industrial machine retrofitting
Production process energy savings: how to cut costs with IoT for Industry 4.0 Applications using Armal's case study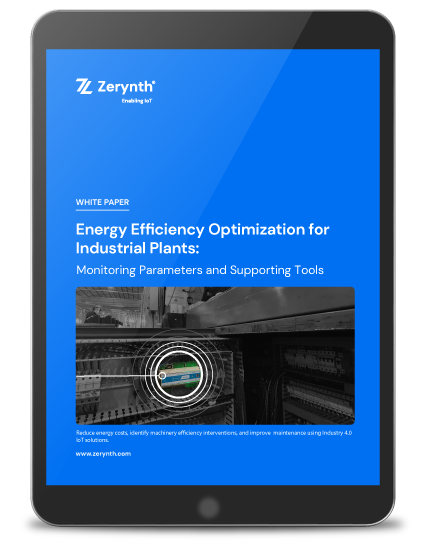 Case study: Production process energy savings
As you can see in the index above, we presented one of our recent case studies in the white paper, detailing production process energy savings. More precisely, it's the story of how we supported Armal in developing an IoT system that allows remote monitoring of their production machinery parameters, and, in turn, cutting energy consumption costs.
If after reading the white paper, you find that you need more information, head over to our case study page.
Read our blog posts about energy efficiency in industrial environments
If you would like to take a look at other information on energy efficiency in the industry, read our two latest blog posts: