The MoRe Impresa Festival is done, and we're ready to share all our thought on the matter. So, first of all, let's just say that we've had a great time in Modena, and that we hope everyone who attended the talk had a great time as well.
And for everyone who hasn't read our previous post, here's some explanation.
How a startup is born – explained at the MoRe Impresa Festival
Last week we went to Modena, to the MoRe Impresa Festival to do a talk about starting a startup. More precisely, it was a dialog titled "I present my startup". Luigi F. Cerfeda, our Head of Marketing, and Stefano Grillenzoni, the technical sales and brand developer of Energy Way, had a chat and explained to everyone how they have started their respective companies.
We answered questions like "How is a startup born?", "What are the challenges?" and "How do I structure my team?"
Take a look at what Luigi had to say about the event:
There was even an article about the event in the Gazzetta di Modena. If you read it you'll see how Luigi offered an example of how Zerynth has helped the IoT and industrial market.
He talked about the WiRef project Zerynth did in collaboration with TOI – Things on Internet. An industrial solution based on the 4ZeroBox and powered by Zerynth.
It's a supervision and data acquisition system that allows you to control your refrigeration and air conditioning system, wirelessly. The Wi-Ref has advanced logging, alarm management, and reporting capabilities, it simplifies what are the legislative requirements regarding HACCP. You can learn more about Wi-Ref on its official website.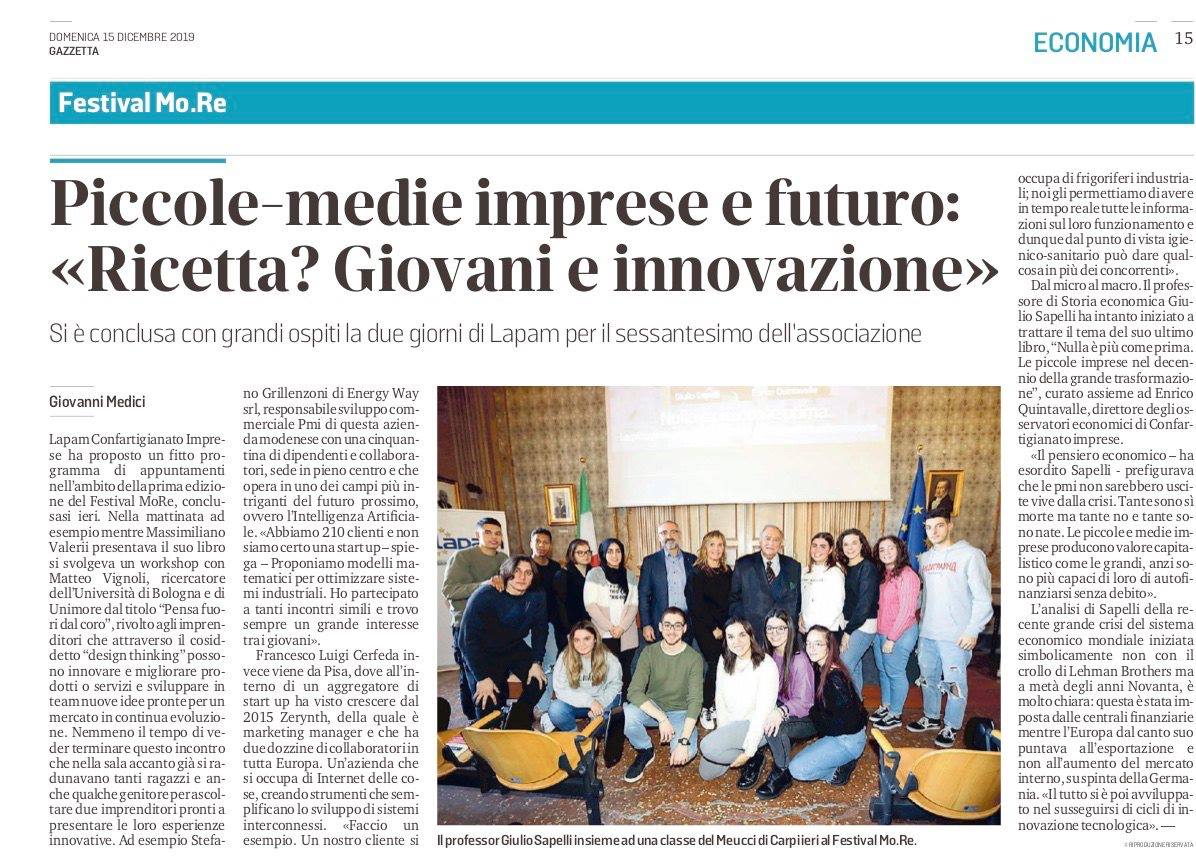 Programming 32-bit microcontrollers in Python
Back when we were starting the company, our main idea was to give people a simple and versatile tool for programming 32-bit microcontrollers in Python. We thought "this is what is missing on the market."
And so we started a Kickstarter campaign. A very successful Kickstarter campaign at that. In the end, we gathered more funds than we originally hoped for.
So, we can safely say that we do recommend this kind of crowdfunding. At least when it comes to the IoT and embedded electronics market.
Download Zerynth Studio
If you want to start programming 32-bit microcontrollers in Python too, download Zerynth Studio. It's free to download and available for Windows, Linux, and Mac OS.