Industrial energy saving is so important today that there are numerous IoT solutions that allow you to do it easily. Why worry about it? Not everyone understands the real usefulness of industrial energy monitoring. Let's analyze the terms and their solutions.
One of the most important actions that allow adequate measurement of any size corporate energy asset is Industrial energy monitoring. Using highly technological measuring tools, it is now possible to collect information about entire work areas. This is important because, with the saving and visualization of the system data received, it is possible to implement intervention strategies based on the real needs of the company.
What can be monitored? Some of the critical items are water, electricity, gas, compressed air, and environmental parameters. All these elements make energy companies very expensive and have a huge impact on the local environment. Industrial energy monitoring is the perfect tool to create a link between metering, thermoregulation, automation, and business comfort.
Industrial energy monitoring: the key to saving
There are many companies today that need to understand and obtain daily information on their energy consumption. A detailed analysis of the energy profile allows one to make the right business decisions by calculating the real impact on production costs. Identifying the right optimization allows a company, in the long run, to reduce operating costs that favor new business investments for the improvement of a product or company resources.
Innovative Software and Edge Devices are at your disposal
Industrial energy monitoring for industry 4.0 consists of three elements: physical infrastructure (sensors and monitoring tools), network structure (wired or wireless) and dedicated software. These are mainly targeting:
energy-intensive companies: registered in the annual list established at Cassa for Energy and Environmental Services (CSEA) pursuant to the inter-ministerial decree of 21 December 2017
manufacturing enterprises
large multi-site enterprises
companies in the tertiary sector
Small and medium-sized enterprises (SMEs), that do not fall within the parameters considered energy consuming, are not obligated to diagnose operations, however, they are invited to adopt voluntary energy management systems, provided that this management system includes an energy audit carried out in accordance with the listed criteria in Annex 2 to Legislative Decree 102/2014.
Following the Legislative Decree 102/2014 (the so-called Energy Decree), various obligations have emerged for companies and professionals operating in the energy sector. To carry out the energy diagnoses, it is mandatory to contact one of these three regulatory bodies:
an ESCO (Energy Service Company) certified UNI CEI 11352;
an EGE qualified UNI CEI 11339 according to Legislative Decree 102/2014 and related circulars;
an Energy Auditor not yet outlined by the UNI standard.
From January 2015 the new UNI CEI 11339 qualification parameters came into force, while from August 2016 the certificates prior to the Energy Decree were no longer considered valid.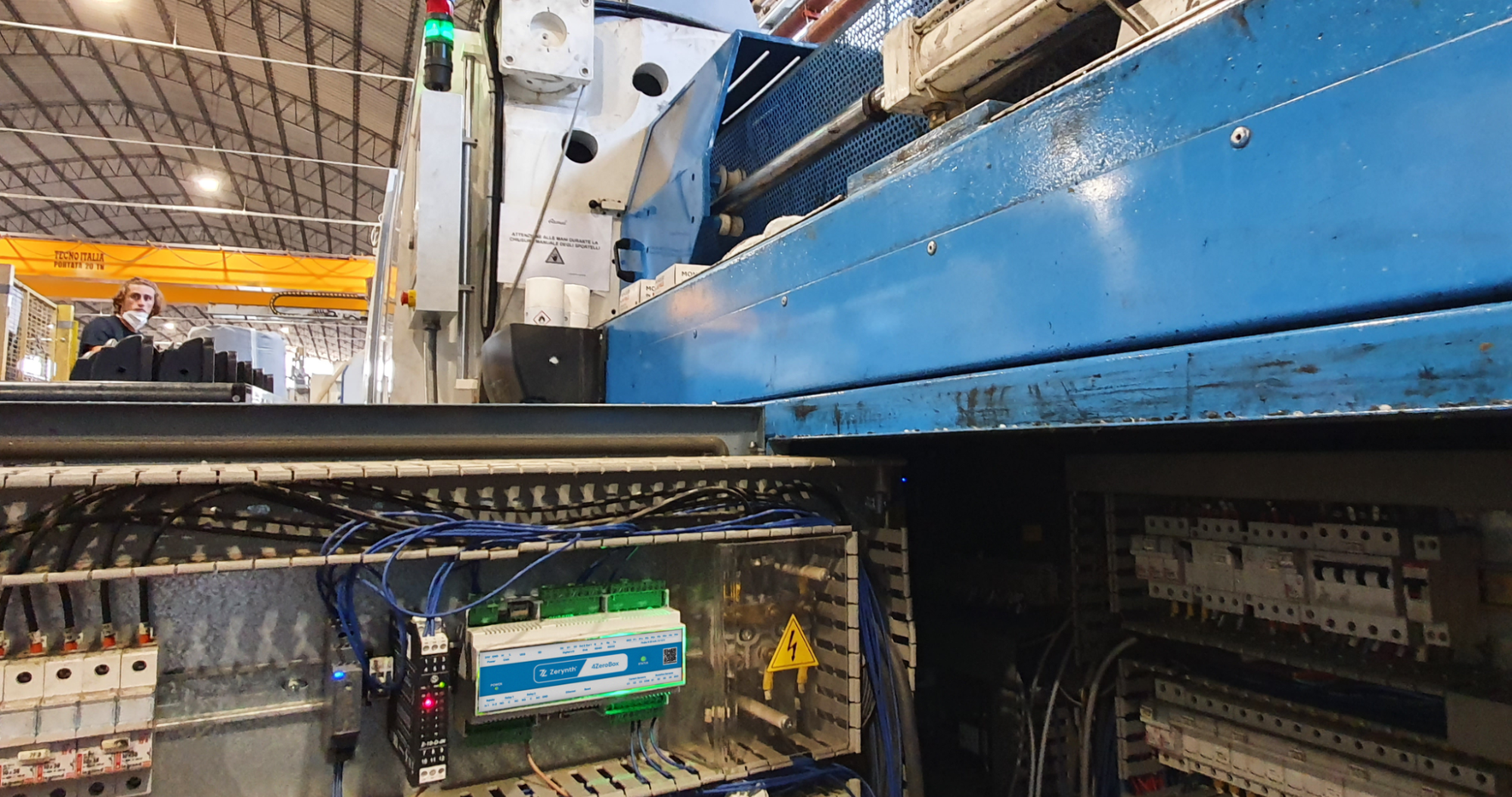 Not only legislation but total benefits
Choosing to carry out industrial energy monitoring, however, does not only produce environmental improvements and compliance with regulations, but by specifically analyzing machine activity and analyzing the slightest variations with non-invasive sensors, you have the opportunity to optimize production times and ensure a long life for your machines!
With the right management and distribution of energy, you can reduce maintenance costs because of the immediate corrective actions and machine anomaly management.
Zerynth's solution
In the industrial energy monitoring arena, Zerynth's solution allows you to monitor the energy consumption of industrial machines, receive immediate notifications, and maintain control thanks to easily reviewed automatic reports.
Zerynth's IoT platform is a comprehensive set of software tools and edge devices designed to enable fast, flexible and secure digital transformation for businesses. Designed by highly specialized IoT experts, the platform enables insights into the energy consumption of each machine or system so you always have the right optimization on consumption.
The experiences gained in the field, by our experts, allows maximum efficiency with cutting-edge technologies. In fact, Zerynth, founded in 2015, today boasts a team of 35 people with extensive knowledge in the IoT field. Over 100 companies have chosen these solutions for their businesses and for industrial energy monitoring.
Zerynth's platform is a plug-and-play solution that, through a few simple sensors, can be installed directly within the production department with minimal production hitches in a non-invasive manner. That's how it is possible for companies to receive real-time notifications on energy consumption of their machinery with immediate alerts from the Dashboard and the Alert Engine that is part of the platform.
It is thus possible to obtain concrete benefits:
up to 40% reduction in energy costs.
up to 30% reduction in maintenance costs.
up to 70% reduction in machine downtime with a consequent increase in industrial machine efficiencies.
A Green transition facilitated by tax incentives.
Would you like to know more? Discover what Zerynth can do for you.