We joined forces with MicroStrategy to demonstrate how the combination of our tools can create a complete Industrial IoT monitoring system. With this kind of effective IoT monitoring companies and organizations can detect events and respond to them in seconds.
In an average IoT system, there are multiple sensors and devices monitoring environmental and internal data and collecting vast amounts of data. Through the use case we presented here, you can see how data like this can be monitored properly, and used in real-time.
You can see the full white paper here.
Collecting and analyzing data from industrial machines
 Industrial automation is the ideal use case for developing IoT. It allows organizations to focus on intelligent process control and automation. With access to previously unavailable data, companies are now able to transform their operations to increase speed, productivity, and ROI.
The Zerynth platform is a set of tools that simplifies acquiring data from industrial machines and sending it to the Cloud or 3rd-party BI solutions.  The Zerynth 4ZeroBox is a versatile data acquisition unit, compatible with both older and more modern industrial machines, as a machine-to-cloud interface. It is powered by Zerynth OS, a multithreaded real-time OS that supports Python and  C programming. With the 4ZeroBox any industrial machinery and equipment can be transformed and enabled to easily join Industry 4.0.
As a demonstration, we took the case of a specific machine that produces face masks and imagined how to monitor the whole production process: relevant information included power consumption, the number of pieces produced, the total number of pieces produced in the current shift, the status of the other machines of the line, etc.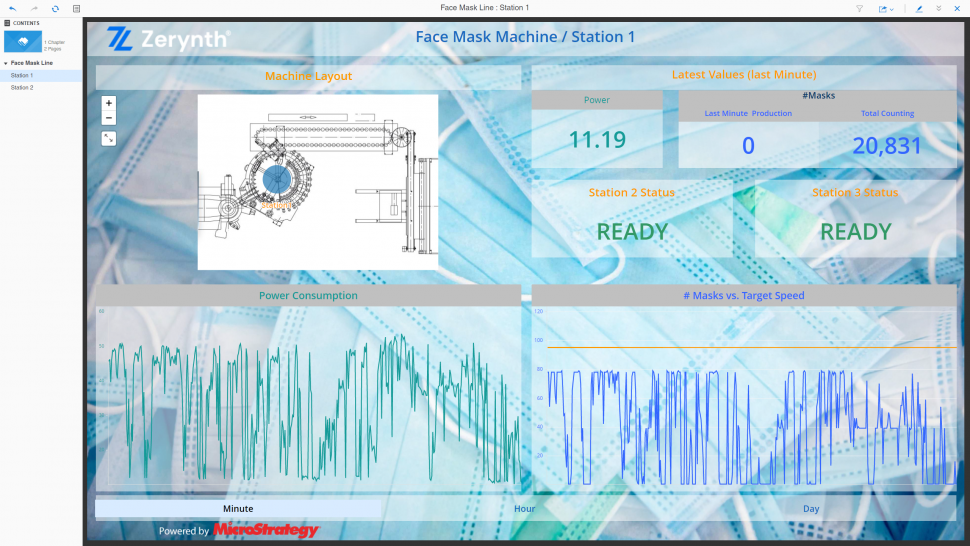 With the data collected, it's time to extract insights and unlock value in the production chain. This requires a modern, open, enterprise platform that can scale while keeping data secure. We created a dossier in MicroStrategy that shows the latest collected values and the average values obtained in the previous recordings. Users can have the image of the machine displayed in the dossier and select the station they want to investigate.
More about MicroStrategy and Zerynth 
Pioneer in BI and Analytics, MicroStrategy (Nasdaq: MSTR) provides powerful software solutions and expert services that empower every individual with actionable intelligence, and allow enterprises to utilize the full potential of their people and investments.
MicroStrategy helps organizations become an Intelligent Enterprise, transforming data into real-world intelligence and answering their most challenging business questions through unique intelligence applications.
MicroStrategy 2020 is the first and unique platform for Federated Analytics, Transformational Mobility, and HyperIntelligence aimed at delivering modern analytics on an open and comprehensive Enterprise level platform.
Zerynth is a platform designed to simplify and accelerate the development of IoT applications. It offers developers, system integrators, and businesses a way to enable IoT for their products, rapidly.
Zerynth Device Manager (ZDM) is a device and data management service that makes it easy to securely register, organize, monitor, and remotely manage IoT devices at scale. As device management is critical across a variety of industrial, consumer, and commercial applications. With Zerynth Device Manager, you can manage large and diverse device fleets such as operational technology systems, machines, appliances, vehicles, and more.