Mouser Electronics mobile magazine has published an interesting post about the partnership we entered into this year with Riverdi and Bridgetek. Of course, the main focus of the post are the Python programmable IoT displays that have been created through the partnership.
The post recognizes the importance of such cooperation and the benefits which it will bring to the industry:
"The cooperative effort will create and implement next-generation smart building systems and Industry 4.0 ready factory automation equipment."
They go on to state that the Zerynth makes these display solutions perfect for the IoT:
"Zerynth's Python-based programming platform keeps software engineering overheads down and is optimized specifically for resource-constrained IoT applications."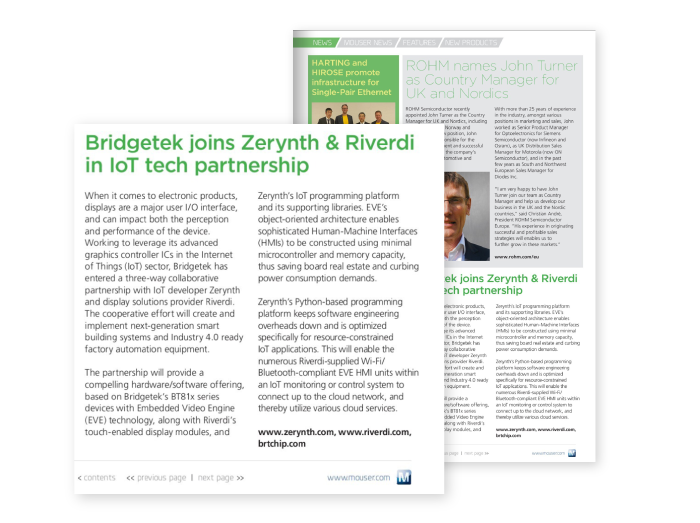 If you wish to read the full post, you can access it by installing the Mouser EIU Electronics app. It is available for free for Android and iOS and can be downloaded from Google Play and Apple App Store.
Python programmable IoT displays
Our partnership with Bridgetek and Riverdi began as we added support for the BT81x family of Bridgetek's graphics processors. The same processors that are used in Riverdi's EVE line of smart displays. You can see the displays here.
Adding Python programmability to these versatile displays seemed like a great way to cut the development time in so many embedded and IoT project.
What would have taken hours with other programming languages takes only a few minutes with Python, and our libraries.
The first time we showed one of the demos with the displays was at Electronica fair 2018. It was a great opportunity to show both the Zerynth powered smart displays, and our popular Blockchain demo.
Of course, we would love if you shared your own projects with these IoT displays. Don't hesitate to send us a message on social media and tell us what you've made.