A company called Global App Testing has published an interesting video that charts the rise and fall of programming languages in the last 10 years. And guess which one is in the first place?
Python of course.
Most popular programming languages on Stack Overflow
The video neatly visualizes a bar chart race of 10 most popular programming languages on Stack Overflow, a question and answer site for professional and enthusiast programmers.
As you can see from the video, Python had a steady climb in the last ten years. Every year would bring it closer to the first spot.
A couple of years ago it would have been considered impossible that Python would overtake C. Many programmers and developers would have said the same thing about JavaScript. But this year, Python overtook JavaScript as the most questioned language on Stack Overflow.
If you want to learn more about their research, and see what else they had to say about the rise of Python, read the "Picking Apart Stack Overflow; What Bugs Developers The Most?" post.
The rise of Python for embedded systems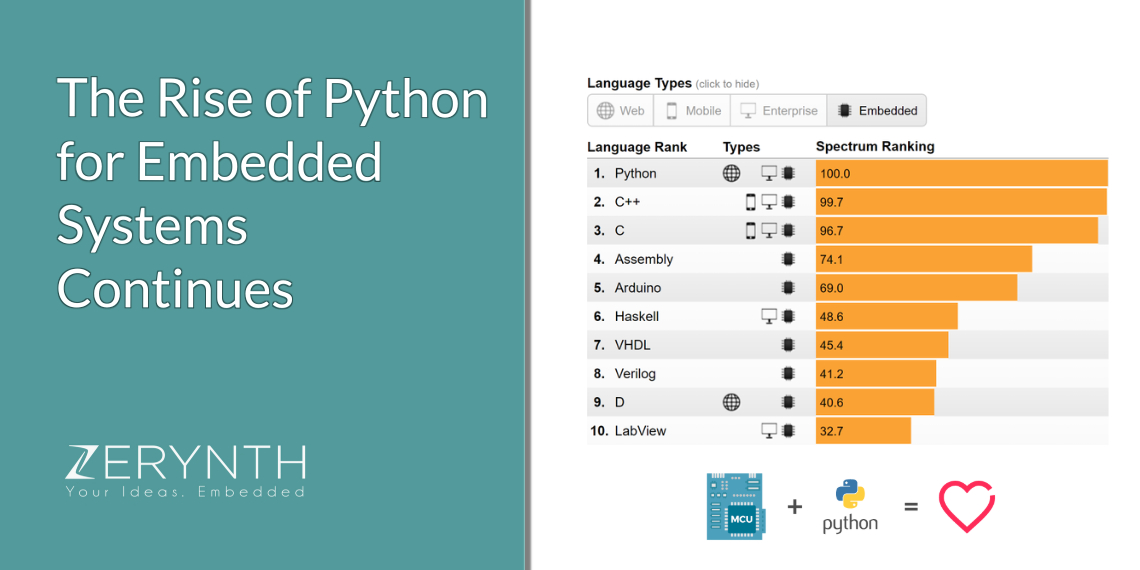 Also, IEEE Spectrum's annual interactive ranking of the top programming languages puts Python in the first spot in 2018. We can safely say that it will remain in that place in 2019, too. Out of 47 programming languages most commonly used today, Python is the most popular one.
Like we've mentioned last year, it's no wonder that Python is rising more and more also in the embedded systems world.
Read the whole article if you want to learn what is happening with Python lately, and how Zerynth fits in this picture.
Download Zerynth Studio today
Download Zerynth Studio today, and start your journey of programming 32-bit microcontrollers in Python. Zerynth Studio is free to download and available for Windows, Linux, and Mac OS.