Electronica fair 2018 ended last week, and we brought back some amazing stories and experiences. Since Electronica is one of the world's largest fairs for electronics it's going to be hard to put everything that happened into words, but that's why we're backing everything up with great images. You'll feel as if you were there with us.
Like we mentioned in our previous post, we were hosted by our partner RS Components at their stand.
It was a great chance to work with the DesignSpark team and explain to the visitors what DesignSpark Zerynth Studio has to offer.
DesignSpark Zerynth Studio new capabilities
If you followed us on social media you already know this – DesignSpark Zerynth Studio has some cool new capabilities. From now on you can use it to program 32-bit microcontrollers in Python for Blockchain applications.
Thanks to the Zerynth Ethereum library, microcontrollers can generate and sign Ethereum transactions based on just a few lines of Python.
Zerynth-powered Riverdi displays
The fair was also a great chance to showcase the new Python programmable Riverdi displays that we're working on.
We used these innovative displays based on ESP32 to present our Blockchain demo. We'll share more information about this demo in the next weeks.
In the meantime take a look here to learn how to use Python on microcontrollers for IoT and Blockchain applications.
4ZeroPlatfrom is ready for shipping
The Zerynth-powered 4ZeroPlatform was at the center of attention at the RS Components stand. TOI's versatile solution for industrial IoT applications is fully programmable in Python, so we combined it with the DesignSpark Zerynth Studio, as you can see from the image below.
While we were at Electronica we also made an announcement about the 4ZeroPlatform – it's all packed up and ready for shipping. So, get ready for the news of the official release in a few days.
From sensor to the Cloud in 15 lines of Python
We also showcased one of our most popular recent demos – From sensor to the Cloud in just 15 lines of Python. It was a simple guide on how to send sensor data to the Cloud in a secure and efficient way.
For the demo at the fair, we used the XinaBox modular xChips.
Meet us at IoT Tech Expo North America
If you missed us in Munich, don't worry. You can meet us in Silicon Valley at the IoT Tech Expo North America. We'll be there on the 28th and the 29th of November.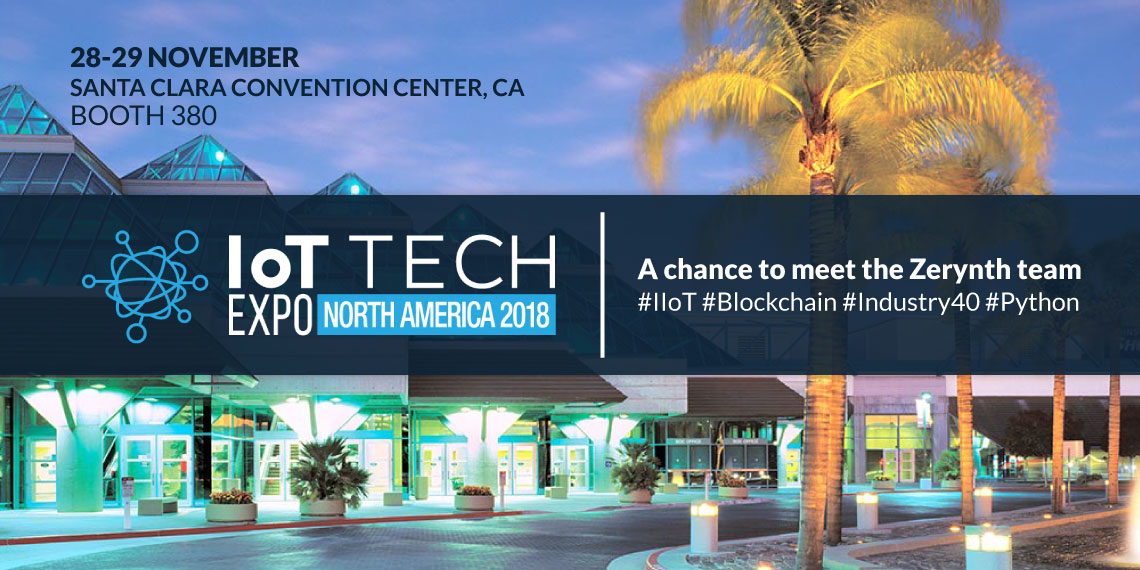 The expo is going to take place at the Santa Clara Convention Center, and you'll find us at booth 380.
See you there!