We tend to think that the latest and greatest technologies are always the best. But a lot of the time we are much better off using our trusted, well-tested current or even legacy technologies.
In industrial manufacturing lines, it is common for two or three-decades-old equipment to still be working and delivering output.
But, with such old equipment, there are problems like:
They do not have the best power performance.
They don't gather enough information or data from production, operating conditions, or equipment conditions.
Involve manual labor like manual monitoring, maintenance, or manual control of periodic operations.
For business owners, replacing older manufacturing equipment comes with a different set of considerations. Legacy equipment might represent millions in capital expenditures and years of planning. Additionally, significant investment in supply chain management adds to the investment. The costs to completely upgrade a manufacturing line will always outweigh the benefits of having an optimal solution with all the bells and whistles touting the latest technology.
Getting the right information
A major problem is dealing with legacy machines because you do not have enough information to ask the right questions.
Questions like:
What is the machine's production volume, downtime, and Overall Equipment Efficiency (OEE)?
What is the power profile of these machines and how can they be optimized?
How much is your production downtime? Can this be optimized?
So what is the solution?  The best answer is to retrofit the machines.
Retrofitting means enhancing the existing equipment with an IoT solution that improves or adds new features such as always-on monitoring, data analytics, detecting defective products, or predictive maintenance. Preferably, these solutions should be non-invasive, in order to simplify the implementation of the solution and the maintenance processes.
IoT is on the rise
The statistical bar graph below predicts the industrial Internet of Things (IIoT) market size, worldwide, from 2017 to 2025. In 2020, the market size for industrial Internet of Things is estimated to have reached some 77.3 billion U.S. dollars, according to Statista.
According to the Microsoft Signals report, where it analyzed the use of IoT technologies from 3000 decision-makers, it was found that organizations are adopting IoT as part of a broader culture to enable:
Production Flow Monitoring
Production Flow Monitoring is a key process in manufacturing. IoT can support production flow monitoring using sensors that deliver insights in real-time. These insights include overall machine performance as well as monitor specific components of the machine. IoT sensors can automatically and autonomously deliver insights into the production levels of individual machines and can even initiate an order for new parts, make a service call or adjust processes to mitigate machine damage or production slowdowns.
Industrial automation is where the use of data-driven control systems helps to reduce the need for human action for industrial processes or machinery.
IoT creates systems that are effective, affordable, and flexible for customer needs. Connecting industrial equipment to the cloud – and sharing real-time data – can positively impact efficiency, production, and uptime as well as help to develop next-generation machines.
Manufacturing is a sector that consumes a lot of energy. Its share is about 28% of primary energy use.
When you know the precise settings to optimize operations, you will be able to minimize energy usage.
At the same time, by simply retrofitting your existing machinery and equipment, you are putting in motion the basis for sustainability. You can use energy-monitoring technology to ensure your energy targets are met.
Although not mentioned in the report, Process Monitoring is the process of measuring and visualizing parameters of a process in order to improve its quality and efficiency of the process.
While it is similar to production flow monitoring, Process Monitoring has a broader scope and is valid in the industrial sector as well as the non-industrial sector, i.e innovative IoT products.
How Can I Retrofit My machines?
You have decided that retrofitting with Industrial 4.0 standards is an intelligent move for the future of your factory. Here is a checklist to go through so you can budget for the retrofitting expenditures.
Start with analyzing your system. Do your machines have PLCs that can output the data? What kind of communication protocols does the equipment use? Is the mapping of the PLC internal variables known or deducible?
Based on your requirements, the goal here is to acquire data on your operations, processes, and operating conditions. Depending on the system, you may use existing machine signals that the machine provides, or you may connect your own sensors to acquire the needed data. Furthermore, the complex control logic can be developed by obtaining the desired information starting from the union of signals acquired in both ways.
Process data locally using Edge Computing techniques and securely communicate the summary of useful information to the Cloud. This way you can minimize traffic while maximizing data quality.
Store and visualize the data in a cloud service that can maintain the production history, this enables you to carry out trend analysis and detect events such as malfunctions.
Depending on your requirements, you can analyze the data or forward the data to a model that predicts a certain parameter or interface your system has with an existing ERP or MES. There are numerous paths you can take from this point.
Unfortunately, IoT is complicated and has a lot of moving parts. How can you connect the sensors to the machines in a non-invasive way? How do you send and store the data securely, and how can you visualize the data and the information on a clear dashboard for the technicians or users?
Zerynth is an all-in-one solution from the hardware to the Cloud. Zerynth is trusted by industry leaders with its Industrial-oriented hardware that was specially designed to work in an industrial infrastructure.
Zerynth Cloud is seamlessly integrated with the hardware and the operating system. This solves the complexities of developing a secure and connected IoT solution.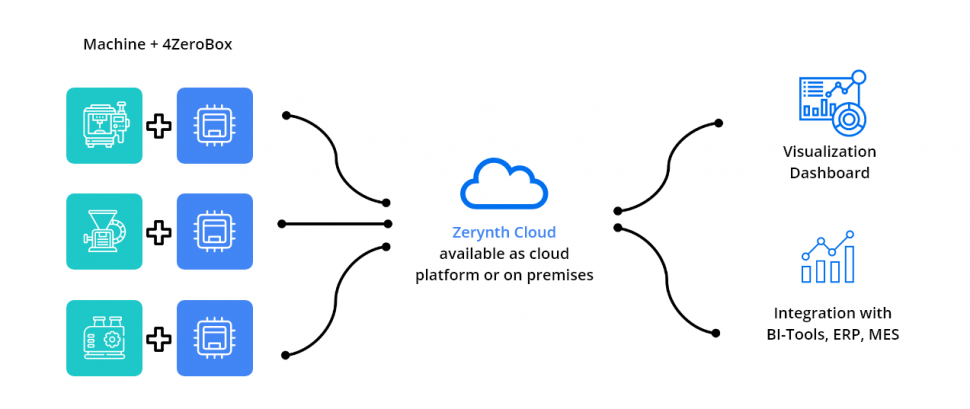 Use-Case
Vitesco Technologies Italy, a company that manufactures automotive components, uses several automatic assembly lines to produce fuel injectors. All of these lines have a test module that controls the previous assembly steps using a leak test. If the test is successful, the fuel module proceeds along the line, otherwise, it is rejected. Before detecting a malfunction on the line, it will produce many false scraps. Therefore, minimizing false scraps due to module damage was a critical issue.
Replacing worn components requires several hours of downtime. Therefore, Vitesco asked Zerynth to reduce manual diagnostics, as well as remotely monitor the status of the test module for each assembly line.
The Solution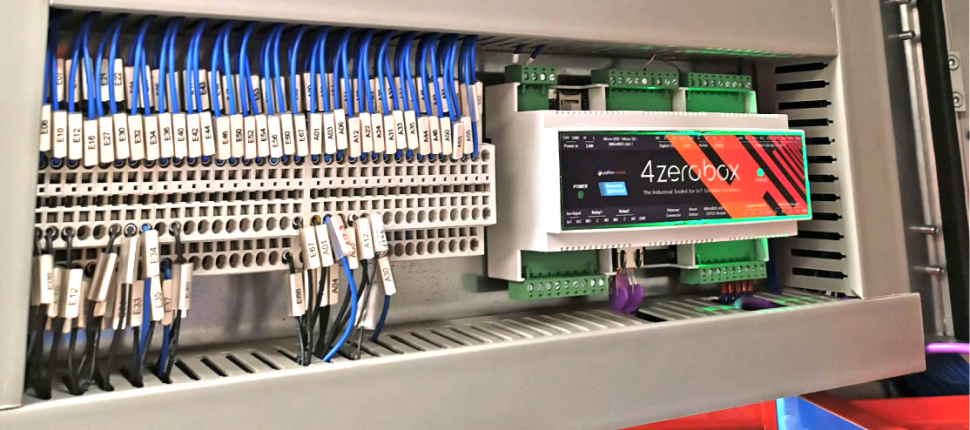 The Zerynth team provided Vitesco Technologies Italy with a local Industrial IoT system for real-time monitoring and predictive maintenance. It is built by using an industrial-grade 4ZeroBox control unit connected directly to the cloud via a Zerynth Device Manager.
4ZeroBoxes collect available data from the PLC and machine sensors together with new data from additional sensors. Then, signals are visualized on the dashboard.