During the "Internet Festival" 2016, Zerynth and the University of Pisa kicked-off the first LPWAN network in Pisa as the initiator of the related The Things Network community, with the goal to help the local hi-tech enterprises, research centers and enthusiasts addressing the needs of long-range and low-power connectivity.
At the 2017 edition of the festival, a panel of experts lead by Zerynth, AAEON Europe and the University of Pisa, will discuss and debate how LPWANs are enabling a much wider range of  IoT and Industry 4.0 applications, exploring the opportunities and threats they present.
Key topics to be discussed will include:
The opportunities LPWAN technologies offer for System Integrators, Technical and IT departments of SME and big companies.
The impact of LPWAN on Smart Retail and Industrial Automation.
Real LPWAN deployment case studies and business cases.
Program and Speakers
Stefano Giordano, Associate Professor at Department of Information Engineering of University of Pisa, will talk about the LPWAN state of the art and its impact on IoT technology.
Marco Barbato, Director of Product Sales Management at AAEON Europe, one of the leading designers and manufacturers of advanced industrial and embedded computing platforms, will discuss how to accelerate the development of Industrial IoT applications, with a special care of security and simple scaling, two fundamental items to realize successful IoT projects.
Daniele Mazzei, Zerynth Head of System Integration, will present one of the business cases built with Zerynth technologies: "Developing Lora Solutions to Optimise Waste Management", already presented at LPWAN World Forum 2017 in London on September 19th.
Meet us at London @Smart_Summit #LPWAN World Forum and discover #IoT LoRa solutions with @Zerynth & @thethingsntwrk https://t.co/PbtgV26u2k pic.twitter.com/ABLQiLLg2X

— Zerynth (@Zerynth) September 19, 2017
During the last talk, Luigi Francesco Cerfeda will present the details of a LoRa network based on technologies made by Mikroelektronika, Microchip, Hexiwear, AAEON, Zerynth and The Things Network. In particular, you will see:
How to create a Microchip/Mikroelektronika LoRa network programmed in Python using Zerynth and connected to The Things Network through the new powerful industrial "all-in-one" LoRa Gateway by AAEON.
How to map the LoRa signal strength using Hexiwear, a wearable technology programmed in Python. Here a sneak peek: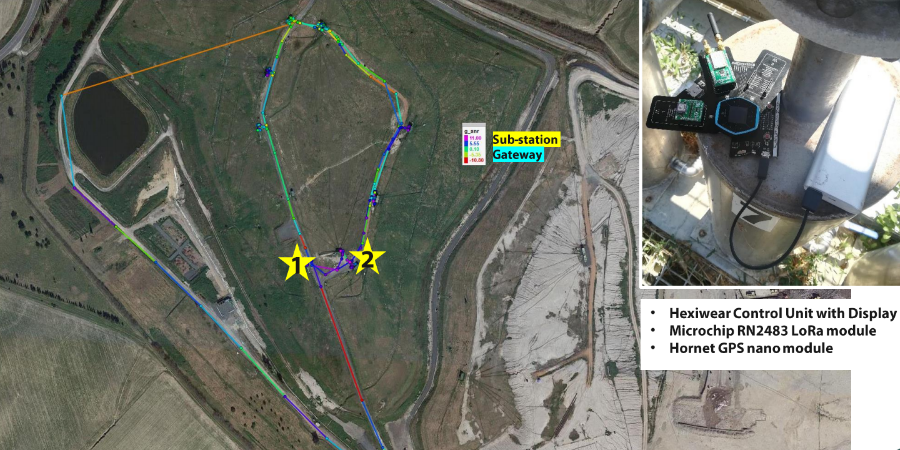 How to participate
When: Friday 6th October 2017, 15:00 – 17:00 CEST
Where: Centro Congressi le Benedettine Aula 4, Piazza San Paolo a Ripa d'Arno, Pisa
[button title="Register here" link="https://www.eventbrite.it/e/biglietti-le-reti-lora-a-servizio-dellinternet-delle-cose-e-dellindustria-40-37769640010″ new_tab="yes"]