There's something special about seeing your name in print, especially if it's a famous newspaper. The one you read every day. That's why we were very excited to see Zerynth featured in the Corriere della Sera this week.
It looks like the news of the on how we secured a €2 Million Round A investment led by the Italian fund Vertis Venture 3 Tech Transfer has reached the whole country now.
For everyone, that has not read our announcement, here's a bit more information. Vertis Venture 3 Tech Transfer (VV3TT) is an early-stage venture capital fund managed by VERTIS SGR, an asset management company specializing in the "Made in Italy Innovative" industry. Thankfully, they have recognized our potential, and ability to simplify the implementation of IoT solutions and decided to invest in the company.
From start-up to scale-up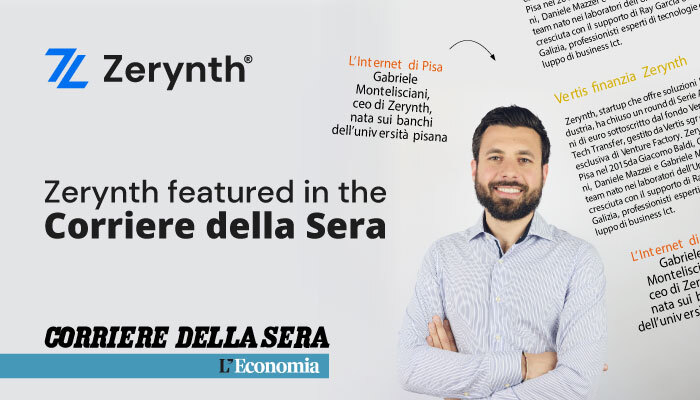 The news was featured in the L'Econimia section of the Corriere della Sera. The section of the newspaper dedicated to economic topics, like savings, the state of the market, business and more.
Here's what our CEO, Gabriele Montelisciani had to share in the article:
"The financial, organizational and commercial development resources of the Vertis fund will support Zerynth in the rapid transformation from start-up to scale-up company. We will be able to enhance our market offer and create technological partnerships with the major players in the Iot landscape."
You can read the full article here.
More about Corriere dell Sera
Corriere della Sera is one of Italy's oldest and most-read newspapers. It was first published in 1876, and it was the first paper in Italy to introduce comics, way back in 1908. Its daily circulation is now over 400,000.