We're happy to let you know that Zerynth version r2.3.1 is out with new devices, libraries, and improvements.
First of all, we've added support for Sony's powerful Spresense board (CXD5602 microcontroller). Spresense is a compact development board based on Sony's power-efficient multicore microcontroller CXD5602. It allows developers to create applications in a very short time and is supported by Zerynth with the new NuttX based Virtual Machine.

We have also prepared two tutorials with the newly added Spresense board, to help you along:
Secondly, we've added a new library for Fortebit's Polaris board. This library has been written to be used with the new Polaris 3G device provided by Fortebit, allowing the user to easily access all the available features of the board. You can see how the Polaris tracked RS Components cyclists across the whole UK here.
We have also added a new Vishay VCNL4200 Proximity Sensor library.
As always, you can find a detailed overview of all the additions and improvements on the Community Forum.
How to update?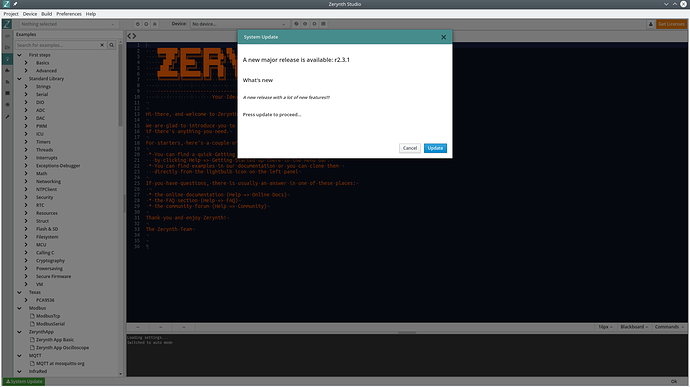 Now you need to update all the packages to the version r2.3.1. To do this you have just to:
Start the new Zerynth Installer;
Open Zerynth Studio ;
Click "System Update";
Click "Update" and restart Zerynth Studio
Follow the wizard and enjoy!
Remember to virtualize again all boards with the new virtual machines!