NOTE: The Zerynth Ecosystem has been updated to Zerynth 2.1.0. The update removes the distinction between "Zerynth Studio" and "Zerynth Studio PRO". You can read more about it here.
Two years passed since the release of the first version of Zerynth. Thousands of users worldwide gave us feedback and helped us shape the best tool for developing the middleware for smart devices, IoT and Industry 4.0 applications. In other words, Zerynth became the "Android™ for the embedded world", supporting applications in manufacturing, retail, robotics, home automation and all other market sectors where the IoT will play the leading role.
We are now proud to announce that the Zerynth Studio PRO will be available to the public from June 28, 2017, with industrial-grade features like:
Power Saving
Selectable RTOS
Over the Air update development
Hardware-driven Secured Firmware burned on the device at industrial volumes
…and much more.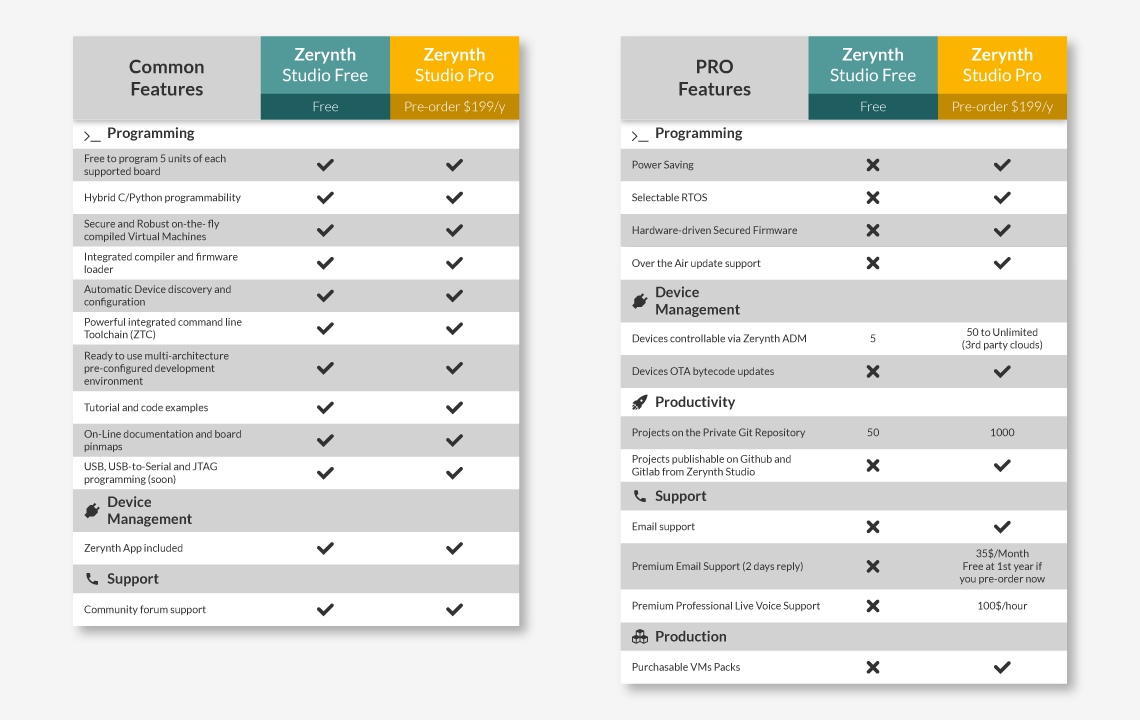 Ready to go PRO? Pre-order now!
Zerynth Studio PRO will be provided at yearly or monthly subscription basis with a simple pricing scheme per single user: $39/month or $390/year.
You still have the chance to get Zerynth Studio PRO at a fantastic price!
By pre-ordering today, you can get Zerynth Studio PRO at a discounted price: only $199/year… for life! And you'll have also a free premium email support at first year of subscription.

Still not enough? Just include the coupon ZERYNTHPRO in the pre-order form, to have another incredible discount of 25% on pre-order price for the first year!
There's only one month left to enjoy Zerynth Studio PRO at a special price, don't miss this opportunity!
Why Python for the Embedded?
Tech experts agree: Industry 4.0 is just around the corner and the Internet of Things is potentially one of the most important trends in the history of the industry. But it's time to move beyond "potential."
IoT is a software challenge: the barriers to entry into this new technological environment are high, while the time to market to develop commercially viable solutions becomes shorter and shorter. Python programming language is becoming very popular in Arts, Interactive installations, but also in scientific data analysis, web design and software development.  An enormous crowd of professionals skilled in using Python "potentially" able to develop the software for the "next big thing" in IoT and to ship new amazing products in a short time.
This is just one of the reasons to adopt Zerynth for designing embedded applications and IoT connected devices, being free to use any 32-bit microcontroller and connect to any cloud infrastructure. All in Python & hybrid C/Python language.
The Zerynth stack
Zerynth provides a full set of professional software tools for IoT development.
Zerynth Studio
Zerynth Studio is a cross-platform IDE for developing your Python or hybrid C/Python code and managing your boards. It includes a compiler, debugger and an editor, alongside tutorials and example projects for an easy learning experience. You can download Zerynth Studio and get started with one of the  supported boards for free!
Zerynth Virtual Machine
Zerynth Virtual Machine is a multithreaded real-time OS that provides real hardware independence allowing code reuse on a wide set of 32bit microcontrollers.
The VM supports most high-level features of Python like modules, classes, multi-threading, callback, timers and exceptions. In addition to these, it allows using custom hardware-related features like interrupts, PWM, digital I/O, and so on.
Zerynth App
Zerynth App is a general purpose interface for Zerynth-powered objects that turns any mobile into the controller and display for smart objects and IoT systems. You do not need to write any separate code for Android or iOS. Learn how to make beautiful IoT dashboards with the Zerynth App.
Zerynth Advanced Device Manager
Zerynth Advanced Device Manager is a device manager compatible with many cloud providers (like Azure, Kinetis, Bluemix, Amazon), exposing a simple API-based interface to ease the cloud data forwarding, Over The Air updates and Remote Procedure Calling.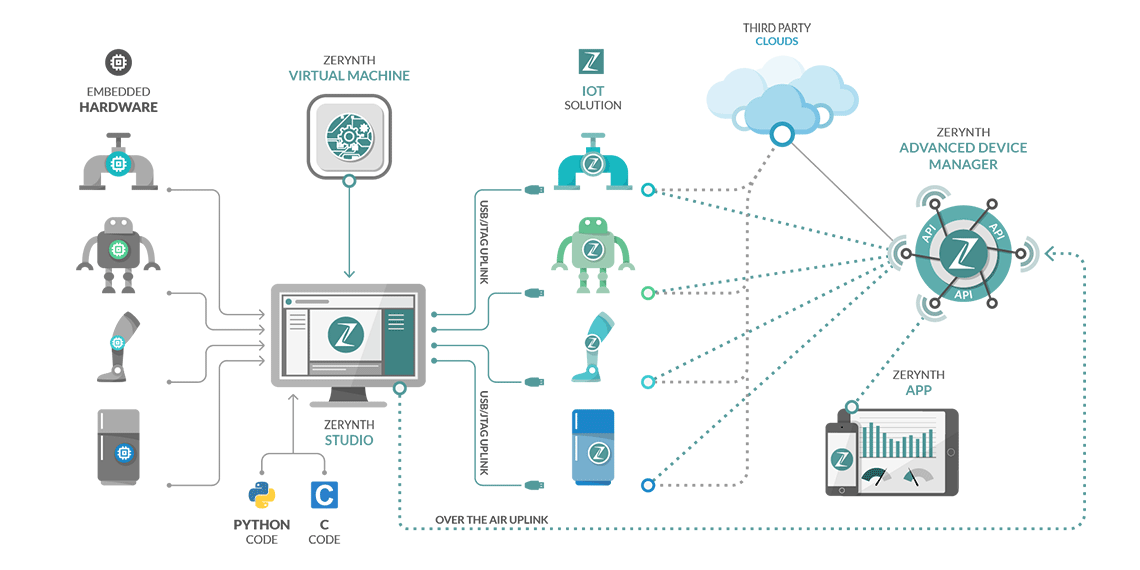 What are the benefits of using Zerynth?
Enabling the use of Python for Microcontrollers and embedded solutions, Zerynth allows:
Time to Market Reduction
Flexibility
Scalability
This is also possible thanks to the large number of supported libraries: from connectivity (BLE, LoRa, WiFi, etc.) to sensors and actuators.
Beyond Arduino and Raspberry Pi…
With an integrated stack that goes from the firmware development to the cloud connection, Zerynth offers the benefits of microprocessor-based boards like Raspberry Pi:
Python language (or hybrid C/Python if necessary)
Multi-threading support
along with the great advantages of microcontroller-based boards:
lower power consumption with respect to microprocessor-based boards
lower hardware costs in the prototyping phase
extremely lower hardware costs in the industrialization phase
All this, with a relatively tiny footprint of 60k-80k of flash, 3-5k ram.
…for scaling up without pain
Zerynth is 100% agnostic towards hardware platforms and cloud infrastructures. The stack is compatible with a wide range of 32bit MCU devices and with many proprietary cloud infrastructures and monitoring systems, so you can use the third party tools that better fit with your needs.
The hardware independence is very important when switching from prototyping to production as there is no need re-write the code for the industrial target board.
This already contributed to make the Internet of Things technologies more accessible for commercial applications to not embedded engineers and small-medium enterprises wanting to provide a digital soul in their solutions. Zerynth software is up and running in commercial applications for retail, commercial refrigeration, waste management, smart devices and many more.
Download Zerynth Studio and get started with Python for Microcontrollers and IoT!