There were some great things to be seen at this year's Engineering Design Show, but what we're most happy to see is what our partners have to say about us. The DesignSpark and Cypress Semiconductors teams met up and had a chance to discuss Zerynth tools and Python programming.
As always, when talking about Python, one of the topics was its popularity and ease of use. After all, it's certainly no coincidence that Python is the most popular programming language in the world.
"I think it's given people an indication of what they could do, make them think outside the box." says the representative of the Cypress team.
Here's what he had to say about Zerynth:
"It's been incredibly popular for the university guys. A lot of interest in being able to use Python for these design tools, copying and pasting code they have developed, or from the applications they used in the past."
Of course, we couldn't agree more with this statement. Over the years we've had enormous success with students and universities. Once they start using Zerynth tools, the benefits are obvious after just a few minutes.
What is your experience with Python programming and Zerynth tools so far? Share your thoughts with us on social media. We would like to hear what you think.
The rise of Python programming for embedded systems
As we've written before, Python was climbing towards the first place in the embedded category for a while. The IEEE Spectrum's fifth annual interactive ranking of the top programming languages has put Python in the first spot, last year. The Web and Enterprise categories already conquered in the previous period, and this was a logical next step.
Out of 47 programming languages most commonly used today, Python is the most popular one, getting ahead of C, C++, and Java.
No wonder everyone keeps talking about it.
Cypress and Zerynth demo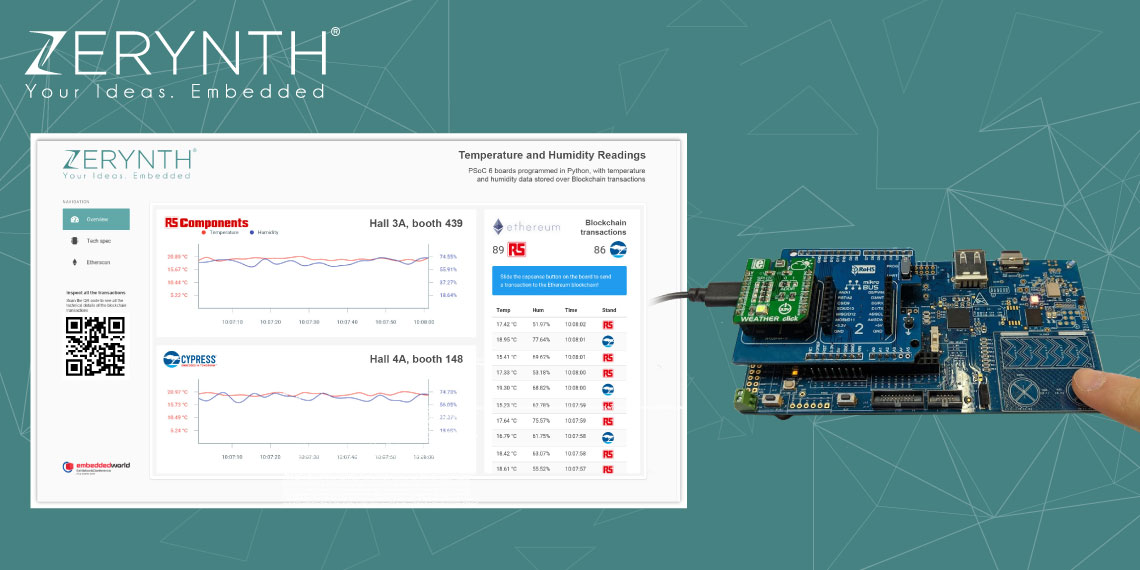 At this year's Embedded World in Nuremberg, we've had a great collaboration with the Cypress team and RS Components team. We've made a demo that is still talked about today.
Two Cloud dashboards are the key elements of this demo. Both dashboards are showing temperature and humidity readings that the PSoC 6 boards we programmed in Python have picked up.
On each PSoC 6 Pioneer Kit, there is a CapSense® (capacitive sensing) button which serves a special purpose. Pressing it triggers a Blockchain transaction, to store temperature and humidity information. This explains how to use a Blockchain for secure communication.
Visitors at the Embedded World scanned a QR code on the dashboard, which led them to all the technical details of the blockchain transactions.
Download Zerynth Studio
It doesn't matter whether you're a beginner or a pro – Zerynth Studio is a mighty tool for Python programming. It's also free to download, and available for Windows, Linux, and Mac OS.
Download it today, and you'll see why everyone is talking about it.