The Industrial IoT market has been booming over the last decade. Expensive operating costs of legacy machines, limited data analytics, and unsatisfactory insights are among some of the reasons factories are moving towards IoT-enabled industrial machines.
Unfortunately, developing an industrial IoT solution is complicated. It requires deep technical expertise across many fields in hardware, software, and cloud technologies.
Zerynth offers the most efficient and simple prototyping platform in the market: ZM1-DB and the expansion boards. Combined together, they can operate as a Gateway for data communication and analytics, an Edge device, or a complete end-to-end product. The possibilities are almost endless.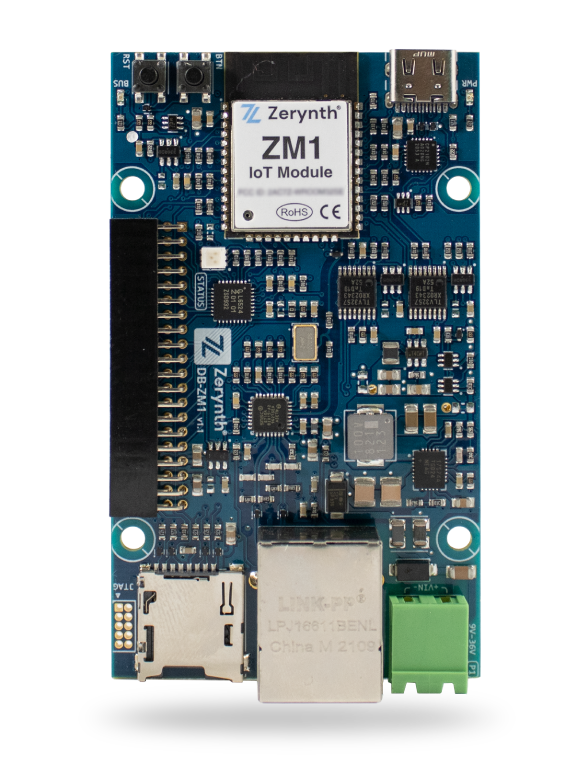 The ZM1-DB is an IoT development board that features an integrated Wifi, Ethernet, and dual-core microcontroller and secure element. 
So what sets the ZM1-DB apart?
Competent dual-core microcontroller running on a Python enabled operating system, In simpler terms this means the ZM1-DB packs enough processing power to run your industrial IoT application whether it is monitoring a process, optimizing power consumption or doing predictive maintenance. Not only that but you do so with minimal development time using the most widely used programming language Python.
Compatible with DIN rail enclosures.
DIN rails are the long metal strips that enable securely attached electrical and industrial control products – such as circuit breakers, terminal blocks, power supplies, actuators, solenoids, and so on – inside a typical equipment rack housing cabinet or frame.
Being DIN rail compatible enables the ZM1-DB and the expansion boards to easily and efficiently fit into the industrial infrastructure, use the same power lines, and communicate with industrial sensors with stability and ease.


The ZM1-DB is designed for flexibility and efficiency, It features Ethernet and Wifi and can be connected to

Cellular enabled expansion boards.


Some projects require a non-invasive connection such as in the case with cellular connectivity, as it does not require any hardware configuration with the existing infrastructure.
This flexibility enables the developer to use whatever communication channel he prefers in a simple way and with a short development cycle.
The Zerynth SDK natively supports industrial interfaces such as RS485 and RS232 and protocols such as CAN, alongside industrial sensor channels. ( voltage-based ( ±10V), current-based (±20mA) or resistive sensors).

Zerynth's SDK also supports many industrial communication protocols such as Modbus over serial, OPC UA, and Siemens S7 Communication protocols.
The developer can add Cellular connectivity by connecting the EXP-CONNECT, or add Industrial IO channels by adding the EXP-IO or use relays or Analog Input channels.
There are many expansion boards that can be easily connected to the ZM1-DB, check them out at this link.
The ZM1-DB is available at our partner distributors, more information is at this link.
Have you checked our customer stories yet?
Click here to check them out.
If you have questions, feel free to leave them at the community forum.