Energy Efficiency Optimization for Industrial Plants: Monitoring Parameters and Supporting Tools
Is it possible to use IoT technology to reduce energy costs in the production process? How can industries monitor the value of OEE to tackle the energy crisis?
The white paper offers an overview of the process optimization challenges of Italian companies and explains how Zerynth's IoT technology is able to provide the most suitable tools for reducing energy costs, and identifying the efficiency issues of industrial machinery, allowing for easy maintenance improvement through an Industrial IoT solution.
Fill out the registration form to read the full white paper.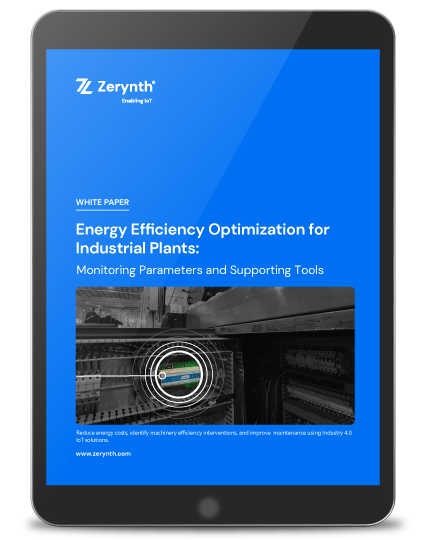 Reducing energy costs and optimizing production processes are among the key factors of a complete digital transformation for manufacturing companies. By adopting innovative smart manufacturing solutions, companies can increase machinery efficiency, improve their production cycles as well as increase product quality.
IoT platforms have proven themselves to be supportive for monitoring industrial machine processes, thus, allowing quick recovery of investment, within months, in IoT technology. IoT platforms ensure greater production efficiency.
In the white paper you will read about:
Industrial energy efficiency in Italy: current state and coming challenges

Problems of increasing energy costs

The importance of monitoring the Overall Equipment Effectiveness (OEE) value

IoT technologies' solution for monitoring consumption

Data historicization

Industrial machine retrofitting

Production process energy savings: how to cut costs using IoT for Industry 4.0.

Armal's case