Industry 4.0: what it is and why it is an opportunity for manufacturing companies
Enabling technologies and advantages of IoT solutions
The 21st century is the fourth industrial revolution era: but what does it mean to adopt Industry 4.0 solutions for Italian small and medium-sized enterprises?
The white paper offers an overview of the technologies enabling Industry 4.0 by focusing on the central role of IoT technologies that are capable of supporting the digitalization process of companies and allowing production optimization, reducing energy consumption and interconnecting machinery.
Fill out the form and read the entire white paper.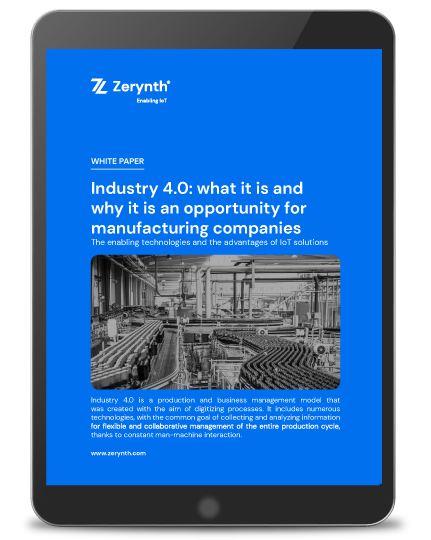 Industry 4.0 is a production and business management model that was created with the aim to digitize processes.
It allows an improvement in the performance of machinery, as well as greater flexibility of processes and industrial performance, cost reduction and a more efficient match between supply and demand in the entire value chain.
White paper index:
The Industrial Revolution

The Fourth Industrial Revolution: Industry 4.0 and communication between machines

Pros and cons of the transition

Enabling Technologies

The Role of IoT Technologies in Industry 4.0

How an IoT platform works

Benefits and Tax Credits

Industry 5.0: human-centric, sustainable, and reliable

Is Italy ready for Industry 4.0?