Hello from the Zerynth team,
In February 2015 we launched a Kickstarter campaign with a promise: reaching beyond professional embedded and IoT developers to also offer high-level programmers and product designers a complete set of high-quality embedded development tools. An enormous crowd of professionals skilled in using the Python programming language to develop the firmware for the next big thing.
After two years of growth, with more than 7000 users worldwide and many industrial implementations, we are ready to release the best performing middleware for smart, devices, IoT and Industry 4.0. Check out in this article what's new.
To learn more about how Zerynth can help you scale up in the market, take a look at the "Get Started" page in our renovated website.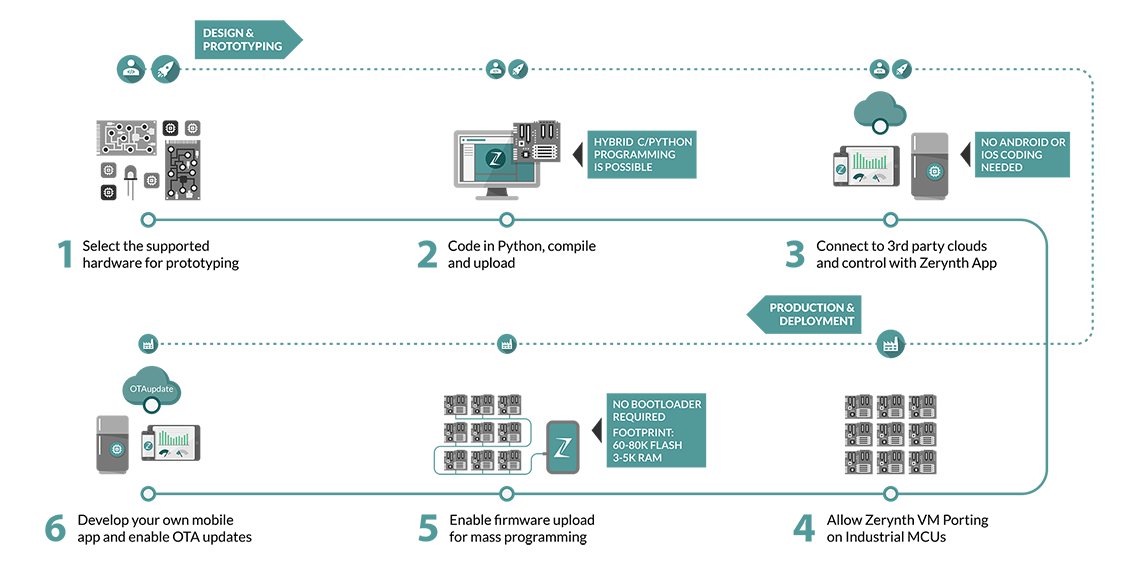 How to get Zerynth 2.0
The first step to access the Zerynth ecosystem is to download Zerynth Studio according to your platform (available for Windows, Linux, and Mac OS).
WARNING for existing users: Moving from Zerynth r1.0.* to version r2.0.0 some precautions must be taken to avoid incurring in compatibility issues. More info in the section Migration Guide of the documentation.
What's new in Zerynth 2.0
The 2.0 release involves innovations in all the aspects of the Zerynth Stack.
Zerynth Studio
Rebuilt from scratch (on top of NW.js browser and ACE editor) to be faster and more performant
Improved UI/UX:

Simplified Package Manager and "virtualization"
Batteries included. All the required libraries, packages, and drivers are installed with the first installation.
New updates are shown through a notification icon in the bottom toolbar of the Zerynth Studio and can be all installed with a single click.
Multiple consoles with different windows
A quick fuzzy search bar

Main editor features:

Syntax highlighting
Syntax autocompletion
Automatic indent and outdent
Search and replace with regular expressions
Highlight matching parentheses
Displays hidden characters
Drag and drop text using the mouse
Line wrapping
Auto PEP8 functionality
Useful shortcuts
Over 20 themes
Font size settings

Private Git repositories hosted on the Zerynth Backend
Simplified publishing of community libraries
Toolchain
An important new Zerynth element has been introduced, the Zerynth Toolchain (ZTC).
The ZTC allows managing all the aspects of the typical Zerynth workflow. It can be used with a command line interface, like the common Linux, Windows or Mac terminals, or it can be integrated with a custom IDE.
You can find more info in the dedicated section of the documentation.
Documentation
The r2.0.0 documentation is accessible at docs.zerynth.com
Improved readability. We've added an index on the left of the page, so you can now walk through the documentation jumping from section to section without returning to the main page.
Improved content search. You can now search terms inside all the doc, and not only within the specific section, you're reading.
New supported boards
Redbear Nano BLE 2 and Blend BLE 2, as announced during the RedBear Kickstarter campaign.
Arduino/Genuino Zero. It's now possible to program in Python for Arduino Zero, the most voted board in our latest survey.
You can find all the other boards yet supported in the table on this page.
Zerynth Advanced Device Manager
The Zerynth Advanced Device Manager is the next Zerynth big thing: a device manager that will be compatible with many cloud providers (like Azure, Kinetis, Bluemix, Amazon), exposing a simple API-based interface for data gathering, actuation and mobile integration.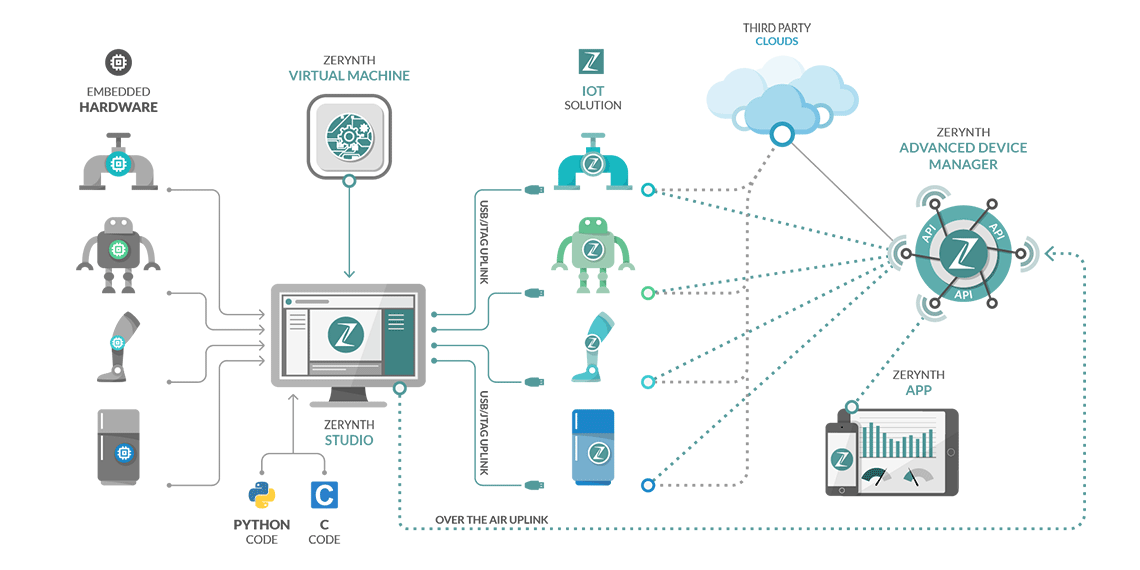 Zerynth App
We are also working to make the Zerynth App the definitive tool for prototyping UI for connected devices. The update will be released directly with the official release of Zerynth 2.0.0.
Ready? Download Zerynth Studio now!
Zerynth 2.0 is designed to enable production and deployment of IoT solutions thanks to Zerynth Studio, that will include features like
Power Saving
Selectable RTOS
Over the Air update development
Hardware-driven Secured Firmware burned on the device at industrial volumes
…and many more
Zerynth Studio is free to download at any time.
The planned launch date for this version of Zerynth Studio is June 30th, 2017. If the release will be delayed, we will let you know.
Happy coding!