As the need for embedded programming to support the latest IoT designs grows, companies are finding it challenging to locate embedded engineers with the right knowledge and skills.
In the March/April 2017 Edition of its Digital Magazine, Microchip highlights how Zerynth reaches beyond embedded engineers to also offer high-level programmers, product designers and IoT developers a complete set of high-quality embedded development tools to create interactive and connected solutions.
This enormous crowd of professionals can now use the Python programming language to develop the firmware of the next big thing. This is made possible by the modular set of software tools that form the Zerynth Stack.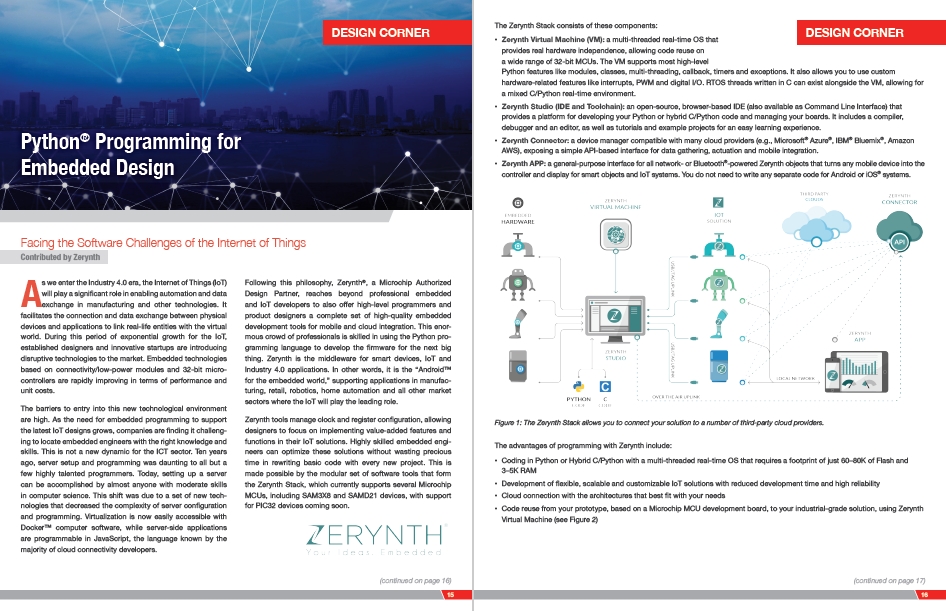 Zerynth currently supports several Microchip MCUs, including SAM3X8 and SAMD21 devices, with support for PIC32 devices coming soon. You can download Zerynth Studio and get started with Microchip or all the others 32-bit MCU supported boards for free!
Zerynth Studio is also available for download, to enable professional features including power saving, selectable RTOS, over-the-air updates of the firmware and hardware-driven secured firmware burned on the device at industrial volumes.