We are proud to announce the launch of the new and improved version of our ecosystem – Zerynth 2.1.0 is now available.
This is a significant update, as you will see from the rest of the post. We have transformed Zerynth from being the Python for microcontrollers to being the middleware for IoT.
A brand new stage for us and a brand new stage for all our users have just begun.
What's new
One Zerynth Studio, free for all
This update removes the distinction between the standard and professional versions of Zerynth Studio. From now on you will find only one development environment that will be free for everyone.
Zerynth Virtual Machine Licenses
Along with the update, we are introducing two new Zerynth Virtual Machine Licenses:
Zerynth VM Starter
Zerynth VM Premium
You can see the two main differences in the image below.
Amazing Welcome Pack
The Zerynth ecosystem received an update, but we have also prepared a present for all our new users.
Every new Zerynth user will get a Welcome Pack with 10 Zerynth VM licenses with FreeRTOS (5 Starter and 5 Premium) for free.
Is there a better way to celebrate this update? We think not.
Spread the word around, let your friends know about the Welcome Pack. Let's share the benefits with everyone.
Are you already a Zerynth user?
This is what will happen to your assets:
You'll keep the exact number of Zerynth VM Licenses you consumed until now (to check your currently consumed assets go in your profile section) that will be displayed as a "Migration" Pack.
You will also receive a Welcome Pack composed of 5 Starter Licenses and 5 Premium licenses that you will be able to use on any of the Zerynth supported devices.
Everything else (Your projects; libraries, etc.) will stay the same.
IMPORTANT: from the technical point of view, all existing virtual machines must be recreated and virtualized again; however users of r2.0.11 version must perform a system update in order to be able to create virtual machines!  Users of versions before r2.0.11 need to download the installer and install it again. More info here.
Open source code is now available
While the core code (the Zerynth Virtual Machine) is still closed to guarantee the performance and reliability needed in industrial implementations, all our main libraries are now accessible, not only in the Zerynth installation path but also on GitHub. You are free to use them in all your projects and develop new ones too. Get inspiration for your own code, see valuable examples and learn from us.
GitHub link: https://github.com/zerynth?tab=repositories
A brand new Website
We've also worked hard to simplify the whole architecture of our website. Following is a run-down on the most significant new sections and pages. Let us know what you think!
GET STARTED, where you can find useful info about:

LEARN

, with quick links to:
COMMUNITY, with quick links to:
Updating the Future of IoT
Our technology already supports five different 32-bit MCU architectures and over 30 different development boards. The number of possibilities for development rises with every new advancement. That is why we have become a valued and trusted partner of many vendors across the globe.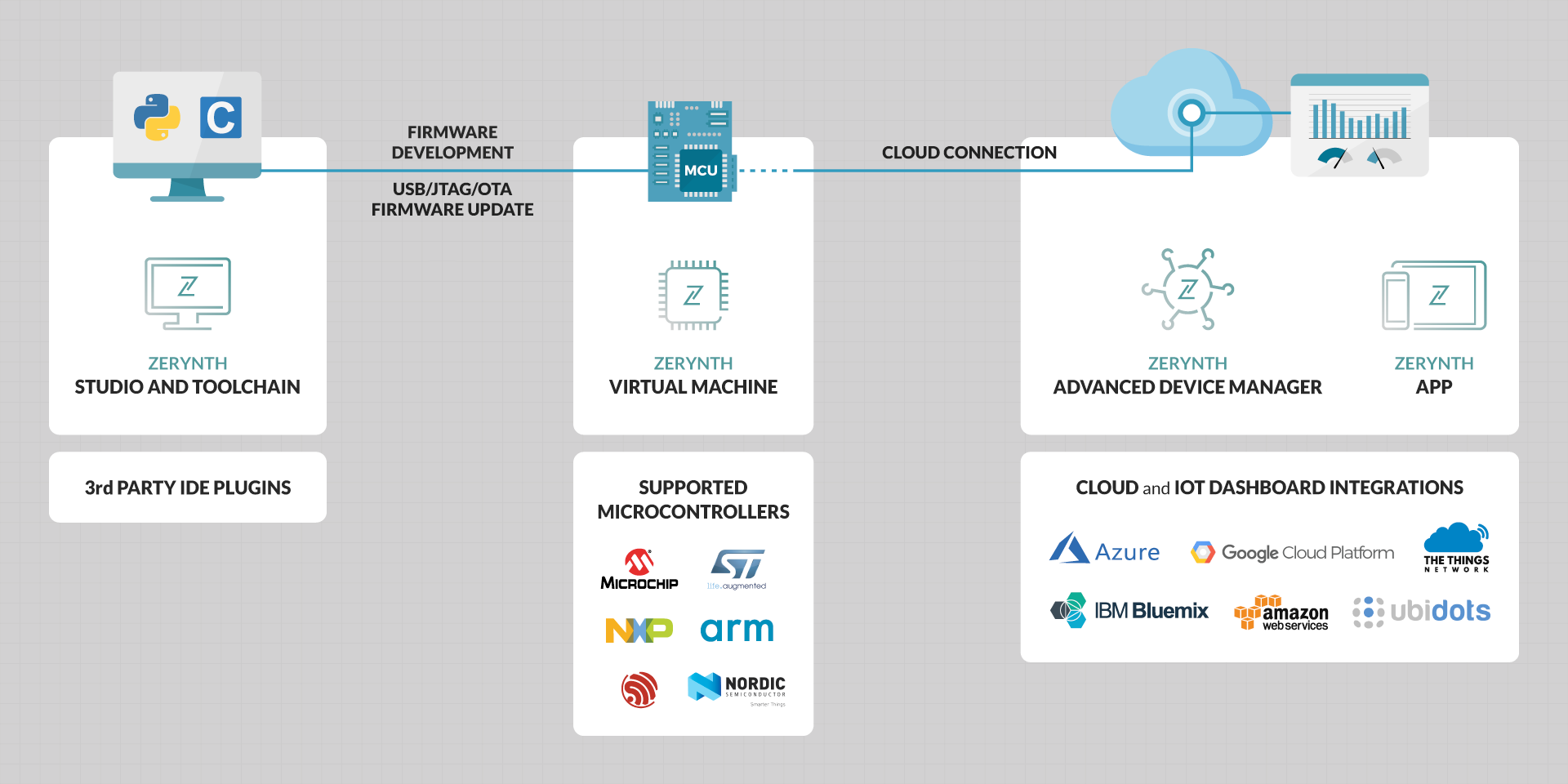 On top of that, we provide support for top Cloud services like Microsoft Azure, Amazon Web Services, IBM Bluemix, and Google Cloud IoT.
The foundation has been laid down. With each new brick, or shall we say each new microcontroller and development board, the Zerynth structure becomes stronger and the IoT development process becomes more powerful.
As easing your development process was not enough for us, we wanted to do more by simplifying the licensing model: access for free all the Zerynth capabilities and just buy as many Zerynth VM licenses as the number of devices you'll be releasing on the market.
As easy as developing the IoT with us, isn't it? :)
Come and meet us at Embedded World 2018!
If you are an IoT enthusiast like us, if you want to learn more about working in Python, if you want to hear more about the LoRaWAN protocol stop by Hall 4, Stand 282 at the Embedded World 2018. We will show you how to develop Internet of Things and Embedded applications in Python using Zerynth.
Happy Coding,
The Zerynth team