Today we have released the new and improved Zerynth IoT Platform. A whole new line of hardware products and cloud solutions to drive the digitalization of industrial processes and bring innovative connected products to the world.
We have worked hard over the last few months to bring these innovative products to the market, and offer our customers a fast and efficient way to bring their companies and products to Industry 4.0 standards.
The platform is fully supported by our team of IoT experts. So, whether you want to develop a new connected product, connect an existing machine, or create an industrial IoT solution, we will offer our knowledge and support you every step of the way. 
ZM1 System on Module
What is at the heart of every electronic device you use?
Embedded in your car, your washing machine, and your refrigerator there is a tiny module called an SoM (System-on-Module).
The Zerynth SoM – ZM1 is the perfect building block for your connected products and industrial IoT. A WiFi-enabled module, that we designed to be scalable and secure.
Considering the importance of security in today's connected world, we wanted to offer our customers a module that guarantees their data will be protected. The ZM1 features the Microchip ATECC608A crypto chip, to ensure a high standard of security. This chip integrates the ECDH (Elliptic Curve Diffie Hellman) security protocol –  an ultra-secure method that provides key agreement for encryption/decryption. It is designed for the IoT market, including home automation, industrial networking, and medical applications.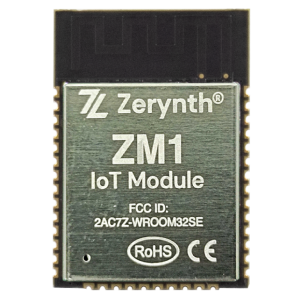 The ZM1 is tailored for:
Industrial IoT applications
Asset tracking applications
Remote monitoring and control of applications
Enhancing new and existing devices with IoT features
It runs the Zerynth OS, a real-time OS that supports both Python and Python/C coding, advanced security and connectivity features, and advanced power management. Also, the ZM1 seamlessly integrates with the zCloud.
If you would like to learn more about the technical features of the ZM1, visit the product page.
ZM1-DB development board
Next, we have to tell you about our new development board, the ZM1-DB. As the name suggests, it mounts the ZM1 module. It offers an easy and flexible way to develop prototypes or PoC (Proof of Concept) with the ZM1 module.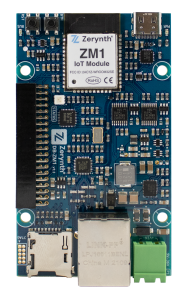 So, if you are looking for a secure and efficient way to transition from prototyping to production, the ZM1-DB is your best bet.
But that is not all!.
We are also introducing a line of expansion boards that are designed for you to add different functionality to your prototype without soldering, wires, and losing time.
We currently offer these expansion boards:

Just like the ZM1-DB, these professional development boards can easily fit in an industrial DIN rail enclosure, making prototyping super fast and efficient.
zBUS
Now, let us explain, in more detail, how these boards can be connected to each other.
Here, at Zerynth, we have developed the zBUS, as a standard, designed to interface different boards and sensors in a stable and efficient way.
This means that there is no longer any need to design, produce and test hardware boards. Your time is too valuable to be spent messing with breadboarding which might be a dead-end for you.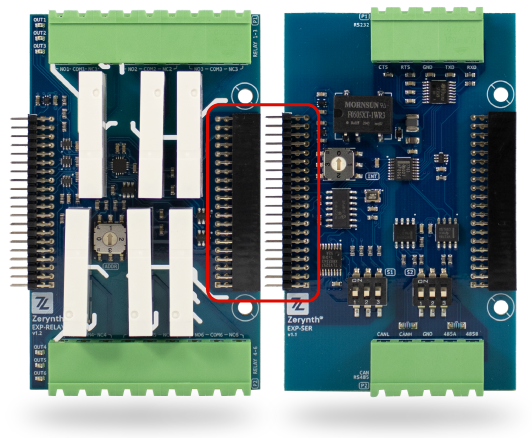 Just connect your Zerynth development board through the zBUS, and cut your development time in half.
Zerynth Cloud
The Zerynth Cloud is a complete platform designed for IoT applications and industrial IoT.
The Cloud is available as a service, on-premises, or on dedicated industrial PCs, whatever suits your business the most.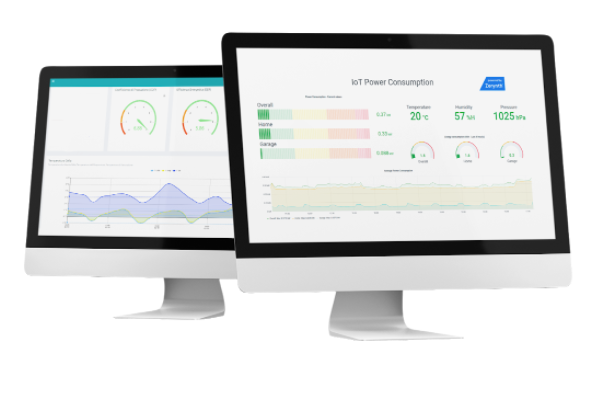 With it, you can manage IoT devices, store and visualize data, and gain insights from a single interface. Access your data from anywhere, on the cloud, in a secure and easy way.
Zerynth Device Manager
The Zerynth Device Manager is a device and data management service that makes it easy to securely register, organize, monitor, and remotely manage IoT devices at scale.
Key Features:
Devices onboarding and provisioning enabled with best-in-class security.
Guaranteed secure, fail-safe firmware over the air updates (FOTA).
Data Management, storage and forwarding to the dashboards.
Easy integration with third-party services and frontends, including all the major cloud service providers.
Zerynth Storage and Dashboard
Zerynth Dashboard is our Dashboard Engine that powers clear, visible and interactive dashboards.
The Zerynth Storage is a data storage service integrated with the Dashboard which is a time series optimized database with an SQL interface.
Main features:
Data analytics and dashboarding service.
Alerts are based on thresholds, forwarding the alerts to 3rd party apps such as Slack, Telegram or E-mail services.
Custom login and dashboard with white-labeling.
Many configurations are possible such as public or private dashboards.
Features many ready-to-use templates for zero-code dashboard building.
Based on the powerful Grafana Engine
Schedule a demo
If you're interested to learn more, book your personalized demo today and speak with one of our IoT experts. Discover the Zerynth Platform's key features and the benefits you can reap after your implementation.