Customer:

Jewelry stores in Paris

Keywords: smart retail, IoT, window shopping

The emergence of digital technologies, social media and mobile devices has led to significant changes in the retail environment and provide opportunities for the retailers to redesign their marketing strategies for a more integrated shopping experience.
In particular, fashion and luxury retail environments are always hanging in the balance of traditions and innovation.
Providing interactivity and smartness to the display of a top-level French Jewelry is a fascinating challenge that mixes design, style and cutting edge technology.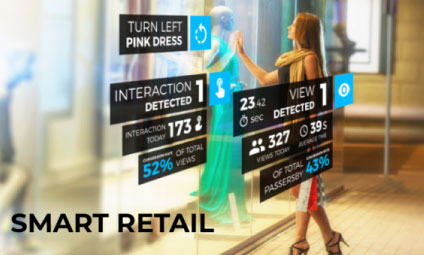 We developed a smart IoT system composed of 12 synchronized interactive rotating platforms installed on the retail window displays of the Jewelry. The system is:
remotely controllable with a dedicated mobile app;

able to gather data about customer interaction;

easily to maintain and scalable.
Technology and Services provided
The solution is based on the 4ZeroPlatform, the Industry 4.0 kit powered by Zerynth, integrated with a custom user interface and dashboard.
We provided an engineering service for the development of the complete application, ranging from the programming of the firmware to the design and implementation of the custom dashboard.