After the popular 4ZeroBox, we are introducing another industrial product to this line: the 4ZeroBox Mobile. An industrial IoT device designed for asset monitoring, data acquisition, and control of industrial machines.
Cellular NB-IoT & GPS capabilities
Although WiFi has been one of the most popular technologies in the world of IoT, cellular technology has been on the rise. With the 4ZeroBox Mobile, you can easily gather and analyze data with cellular technology. Monitor the position of your assets with integrated GPS and communicate with industrial machines over NB-IOT.
So, all those times you considered what to do without WiFi or Ethernet, now you can just use 4ZeroBox Mobile.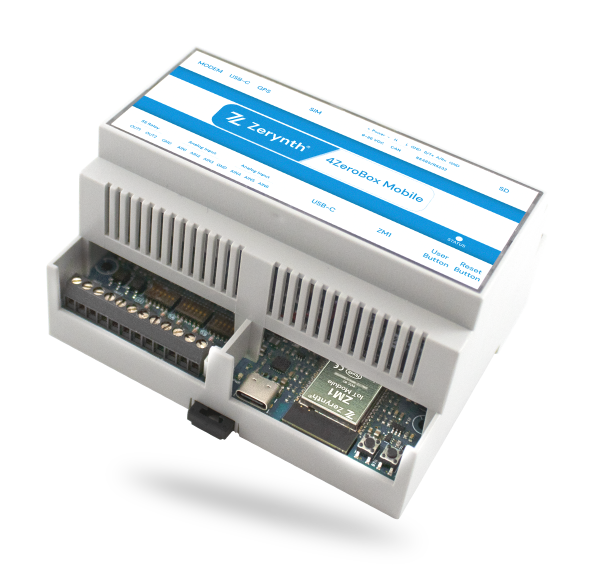 Why do you need NB-IoT for asset monitoring?
NB-IOT is very suitable for applications where a very large number of generally stationary assets need to be monitored, with infrequent cycles.
For example, we can take a look at smart agriculture. If you need an application that reports the level of moisture in the soil every day at the same time, NB-IOT is your answer.
NB-IOT has: wide coverage, low power consumption, and is low cost.
Secure by design
Data acquisition is one of the building blocks of any IoT project. Of course, any object that gathers data within the system is a valuable asset, and it must be protected from attacks. This is why our new 4ZeroBox Mobile uses the most advanced security standards.
The ZM1 featured onboard offers the highest security standards – It can store cryptographic credentials, accelerate cryptographic operations without exposing the credentials outside of its boundaries thanks to the onboard crypto-element.
Key Functionalities of the 4ZeroBox Mobile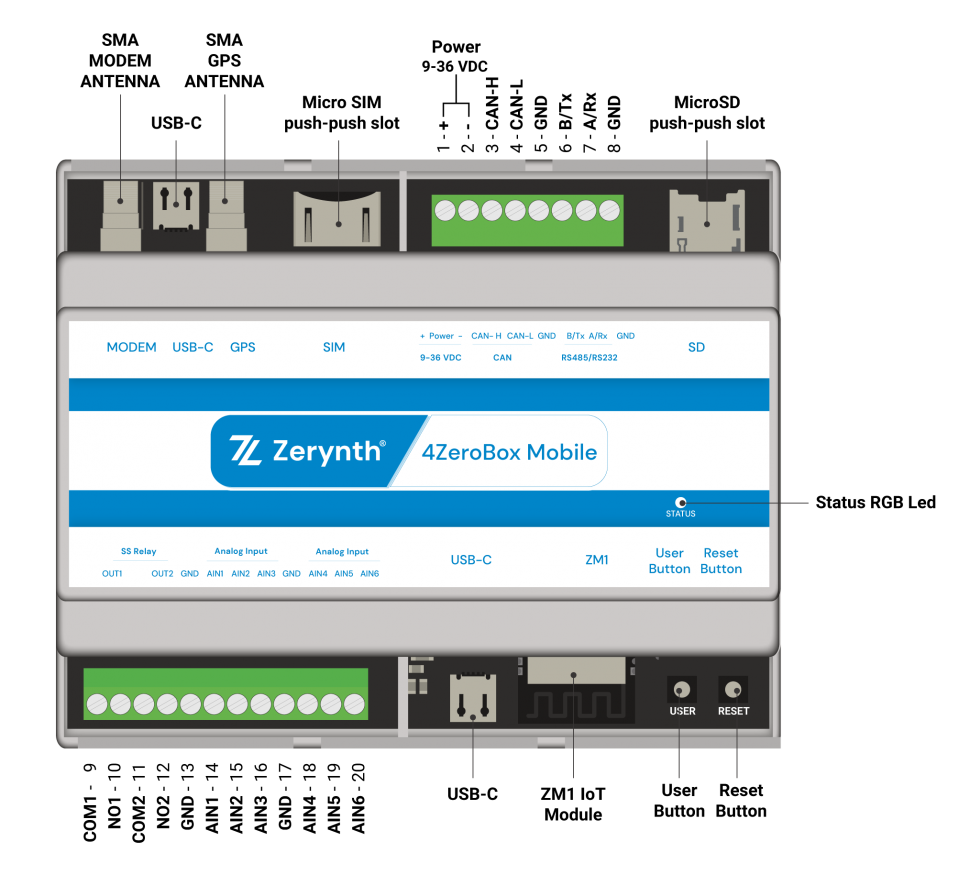 Communicate with industrial machines over 5G NB-IOT connectivity where WiFi and Ethernet are not available.

Receive real-time notifications for critical events. 

Monitor the position of your assets with integrated GPS.

Easily improves visibility on production processes.

Allows power consumption applications with the industrial sensor channels and seamless connection to the cloud.

Enables predictive maintenance of industrial machines.

Supported by Zerynth OS, real-time and multithreaded OS that enables Python and C development.
To learn more about the technical features of the 4ZeroBox Mobile, visit the documentation. If you would like to pre-order it, visit the official page.