Our partner, one of the best and most popular engineering communities in the world, DesignSpark has just celebrated its 10th birthday. We can't believe it's been that long. But at the same time, it seems like DesignSpark has been there forever. That's the thing with great ideas and places, sometimes you can't imagine what it was like before them.
RS Components launched DesignSpark on July 6th, 2010, in hopes of giving the engineering community a place where they can exchange ideas, solve problems together, share insights, and get to know one another. As they said in their birthday post: "a brand new engineering community designed for engineers, by engineers."
Zerynth Toolchain available over a unique portal on DesignSpark
For two years now, everyone could access to Zerynth tools straight from DesignSpark, making it possible for a whole engineering community to start their IoT journey in just a few clicks.
We've done some awesome things with the DesignSpark and RS Component team over the years. From joint workshops and demos,  to sharing the same booth at various fairs and expos. It's always fun to collaborate and learn together with their team.
Last year, they've hosted us at their booth during Embedded World 2019, where we created a special blockchain demo, in collaboration with RS Components and Cypress.
Essentially we set up two Cloud dashboards – one of the RS Components stand, and one on the Cypress stand. Both dashboards showed temperature and humidity readings that the PSoC 6 boards we programmed in Python have picked up. On each PSoC 6 Pioneer Kit, there was a CapSense® (capacitive sensing) button which served a special purpose. Pressing it triggered a Blockchain transaction, and stored temperature and humidity information. You can read more about it here.
RS Tour de Branch
Back in June 2019, we collaborated again, during RS Components' charity bicycle race across the UK in an attempt to raise £250,000 for Children with Cancer UK. Fortebit's Zerynth powered Polaris, an open IoT platform, was a part of  RS Tour de Branch from June 8th until June 19th 2019. Two bicycles in the race were carrying Polaris, and collecting temperature, humidity, pressure, and air quality data along the way.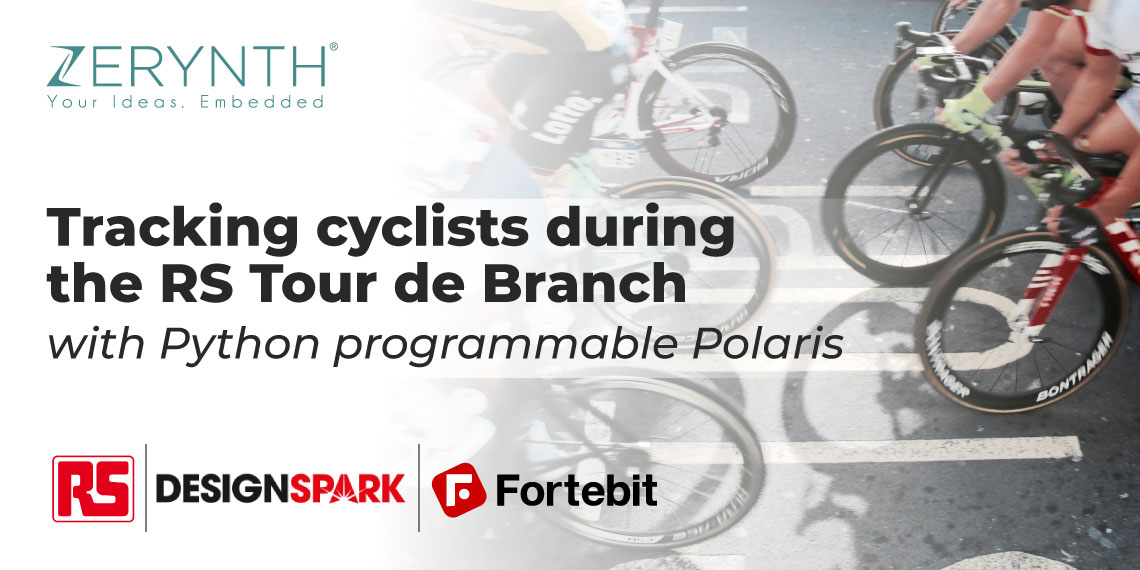 We certainly hope that we'll have a chance to share more experiences like this one in the future.