Make Real Life IoT projects using Python and Microcontrollers
Tech experts agree: Internet of Things is potentially one of the most important trends in the history of the industry. But it's time to move beyond "potential." It's time to make IoT real!
To make this possible, it's necessary to give the right tools to the right players. YOU are one of the right players and we are working hard to provide the right tool.
Zerynth is the first vertical set of tools for designing embedded applications and IoT connected devices using any 32-bit microcontroller and cloud architecture. All in Python (or C/Python) language!
Zerynth provides the middleware for smart devices and solutions for the Internet of Things and Industry 4.0. In other words, the "Android for the embedded world" , applicable to manufacturing, retail, robotics, home automation and all the market sectors where the IoT (and YOU) will be the protagonist.
The Contest
This contest is open to professional designers, makers, hackers, nerds and geeks who want to build real life IoT projects using Zerynth on one of the supported boards.
See the world around you, stretch your imagination and build something unique and useful for a chance to win.
If you're not sure how to begin, here are some resources you may find useful:
Simple Rules
The rules are very simple. Long story short:
Make a project using Zerynth and at least one of the supported boards (see the list at this page).
All projects should be relevant to the theme of the contest: "Real Life IoT".
There is no limit to the number of projects you can submit.
Submit the project to the following two platforms:

Zerynth's Hackster.io page (don't forget to link Zerynth as software tool)
"Zerynth Community Projects" on Zerynth Forum
Great Prizes!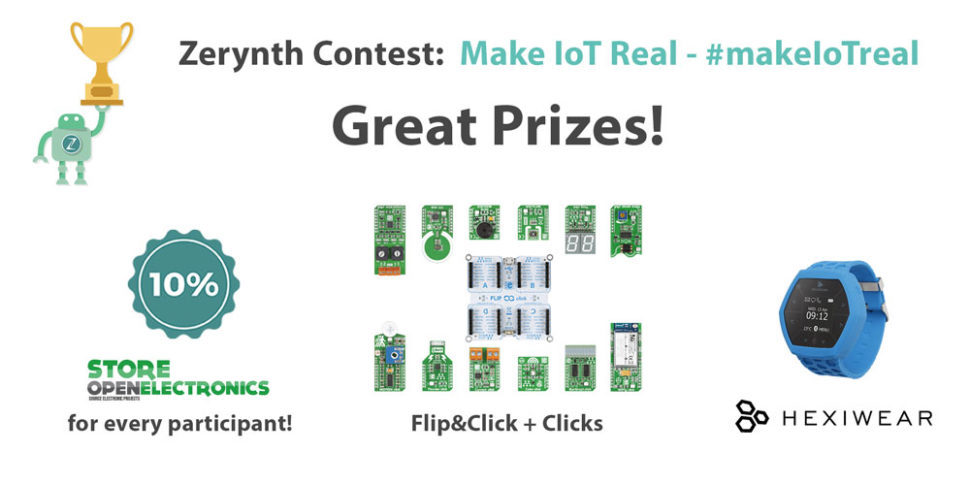 Participation Prize: first of all, Zerynth and our partner Open-Electronics want to thank every participant giving a 10% discount on the Open-Electronics store. When your project will be accepted we'll send you a message with the promotion code.
Zerynth's Choice Prize: we will award the best project with the fantastic Hexiwear by MikroElektronika and NXP!
Community Prizes: the 3 most voted projects will win great prizes provided by Open-Electronics and MikroElektronika. In particular: 1 Flip&Click with Zerynth Virtual Machine + 1 Click board OR 2 Click boards already compatible with Zerynth (

LoRa

,

WiFi Plus

,

Bargraph

,

Temp&Hum

,

I2C 1 Wire

,

Thumbstick

, 

REED

,

DC MOTOR

,

Vibra sense

, 

IR Distance

,

microSD

,

RELAY

,

Motion

)
Bonus Prize: winners also have the possibility to be interviewed and featured on the Zerynth, Open Electronics or MikroElektronika blog!
How it works
Publish on Hackster
Create a new project on Hackster that fits the simple rules outlined above.  Never published on Hackster? Learn more about how Hackster works.
Shortly, your posted project should include:
story and quality images;
clear instructions;
BOM and schematics;
source code;
CAD files if relevant
link to Zerynth as "Software tool" in the list "THINGS USED IN THIS PROJECT"
Projects are accepted by Hackster staff within one business day Monday – Friday.
In addition to Hackster, we suggest you using also Instructables and Hackaday to attract more visibility. By the way, only Hackster is mandatory.
We also suggest citing that your project is an entry for this contest and to link this page in order to increase the chances to be voted.
Bare in mind that there is no limit to the number of projects you can create! Switch out from a board to another, from a wireless technology to another, or from a specific temperature sensor to another and you've got yourself an entirely different use case. Increasing the numbers of projects, you can increase the chances to win more prizes.
Publish on Zerynth Community Projects
Upon publishing your work on Hackster you'll post the projects also on the section Zerynth Community Projects on the forum with the title, an abstract and the link to Hackster (and other publishing platforms, if you want). Please, send also a message on the official thread "Zerynth Contest: Make IoT Real" to tell us that the project you've posted on the "Zerynth Community Projects" section is an entry for the contest.
Example of an entry on "Zerynth Community Projects".
Title: IoT Ambient Light: Zerynth Lamp
Abstract: Low power wireless standards combined with low cost, ultra-miniature LEDs, sensors and communications devices has made smart lighting a catalyst for the Internet of Things and home automation. The "Zerynth Lamp" is is a colorful LED lamp that can be controlled via mobile using Zerytnh App, that shows a color picker and a menu for the selection of various pre-configured animations.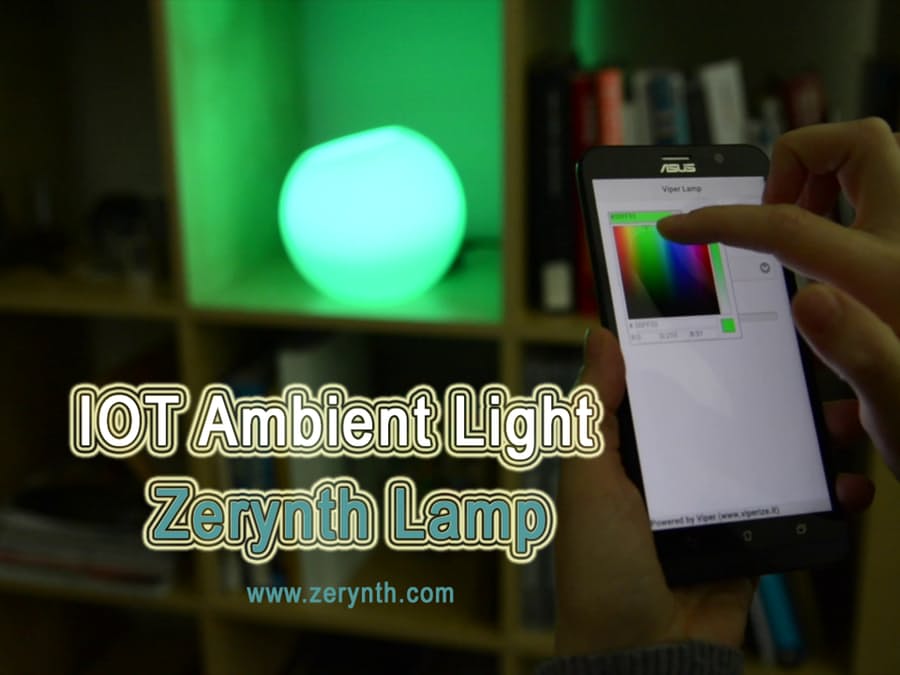 Link to Hackster:  https://www.hackster.io/luigifcerfeda/iot-ambient-light-zerynth-lamp-d09ea3
Accepting
We'll review your project and if it's eligible for entry, it will be inserted in the list of participants (that will be visible on this page).
First of all, to be eligible, projects must be accepted between Dec 20, 2016 and  Mar 17, 2017  April 14, 2017 (11:59 pm Central European Time).
In addition, your project has to be a real life application. For example, a multi blinking LED would not be enough for the contest. A multicolor living room lamp controlled via mobile is a real life IoT application 😉
By the way, your project does not need to be extremely complex!
Voting
Everyone can vote for an entry during the contest, clicking on the checkbox on the left of the title in the list above. It's not possible for a single person to vote the same project multiple times.
Judging
In addition to the 3 Community prizes, the Zerynth team will choose the project winner of the Zerynth's Choice Prize.
The winner is selected based on the following criteria:
Documentation (30 points) – Describe your project with plenty of details including images, screenshots, and/or video.
Code (30 points) – Programming with Zerynth is very easy and we love to see beautiful and elegant codes. Spaghetti code is not allowed!
Creativity (20 points) – Your idea doesn't have to be original, but it should be creative.
Design (20 points) – One of the main mission of Zerynth is to make makers PRO. Don't stop you to breadboard and funky wires. Bring your work to the next level.
Winners
When the winners are decided they will be announced here on the Zerynth blog and on the Zerynth Community Forum. All entrants will be also notified via email.
Good luck! We can't wait to see what you build.
For more details on the contest rules, terms and conditions, read here.