We are delighted to announce our new partnership with RS Components, the trading brand of Electrocomponents plc (LSE:ECM), a global multi-channel distributor.
The main feature of this partnership is that the Zerynth IoT development environment will be available over a unique portal on the DesignSpark engineering community, enabling easy access for customers to download the tools.
Giving engineers an easy way to program microcontrollers for IoT applications
"Our mission is to help speed up projects and development for the IoT by reducing complexity and removing the barriers to entry for engineers," said Gabriele Montelisciani, CEO at Zerynth. "This concept is a perfect fit with RS' DesignSpark commitment to the maker and engineering communities, so we are delighted to sign up a leading player in the industry and thereby maximize the exposure of Zerynth and our innovative IoT programming technologies."
"This agreement represents a pivotal step in the evolution of our partnership model and the augmentation of RS' strategy for the IoT," said Richard Curtin, Vice President of Strategic Alliances at RS. "It is the first global commercial software agreement for RS and Electrocomponents plc and is a supreme example of our commitment to innovation and to bring world-class products, technologies, and solutions to our customers. The Zerynth suite is fast becoming the 'Android' for embedded IoT applications and is a key addition to the DesignSpark suite of enabling design and development tools for engineers."
Download the DesignSpark Zerynth Studio kit
The DesignSpark Zerynth Studio suite is available to download on DesignSpark. The whole Zerynth toolset allows developers to shorten their development time and get from prototype to final product in the least amount of time.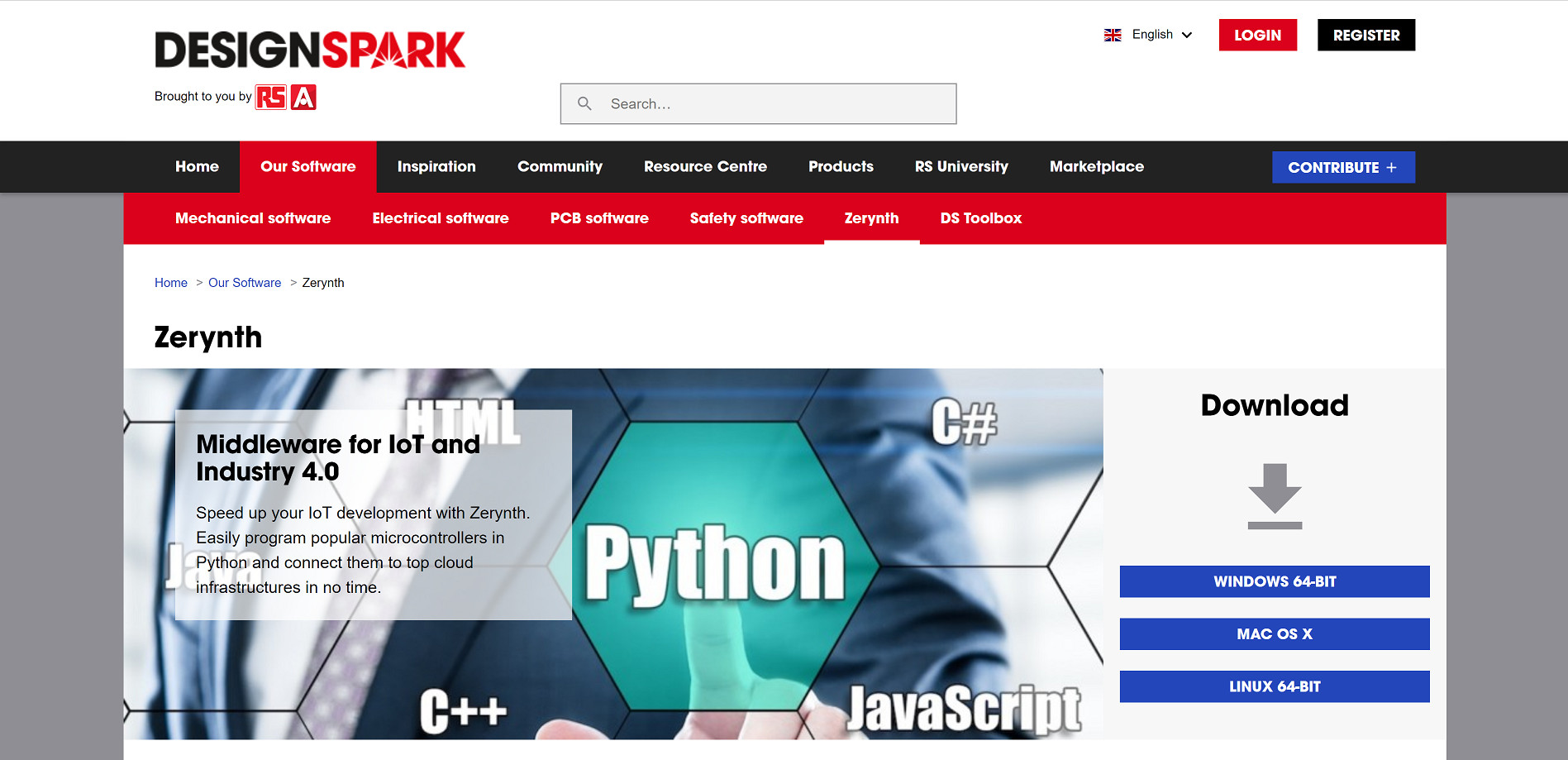 More about RS Components and Zerynth
RS Components is the trading brands of Electrocomponents plc, a global multi-channel distributor. They offer more than 500,000 industrial and electronics products, sourced from over 2,500 leading suppliers, and provide a wide range of value-added services to over one million customers. RS Components has operations in 32 countries.
Zerynth simplifies IoT development providing an easy and efficient way to program the most popular 32-bit microcontrollers in Python and connect them to the top Cloud infrastructures, with high-level standards of security. With R&D in Pisa, Italy, and a global sales team, Zerynth is helping thousands of developers around the world to develop new IoT products and Industry 4.0 applications with reduced costs and improved time-to-market.