On April 13th we are holding a workshop, with the ever-popular "15 lines of code in Python" demo, at the GDG DevFest in Pisa.
The DevFest is a conference focused on Android, Web, Cloud and Google technologies, and we couldn't be happier to be a part of it. It's an exciting opportunity to meet other Python enthusiasts and to present the Zerynth toolset to a wider audience.
If you're in Tuscany that weekend, and you want to join the "From sensor to the Cloud in 15 lines of code" workshop, register today, and book your place.
You can check out the whole schedule of the DevFest here, and pick all the workshops and presentations you are interested in.
We hope we'll see you in Pisa!
Google Development Group DevFest
The Pisa GDG (the Google Development Group from Pisa) is responsible for organizing this event. They are a member of the larger GDG platform – formed by developers who are specifically interested in Google products and APIs.
This whole Google program is dedicated to assisting individual organizers of active mobile, web, cloud, and AI developer communities to share knowledge and experiences.
You can learn more about it here.
From sensor to the Cloud in 15 lines of code
You can see the whole demo in this tutorial, from last year. If you're new to Zerynth Studio, and Python programming, perhaps you could read it before the workshop.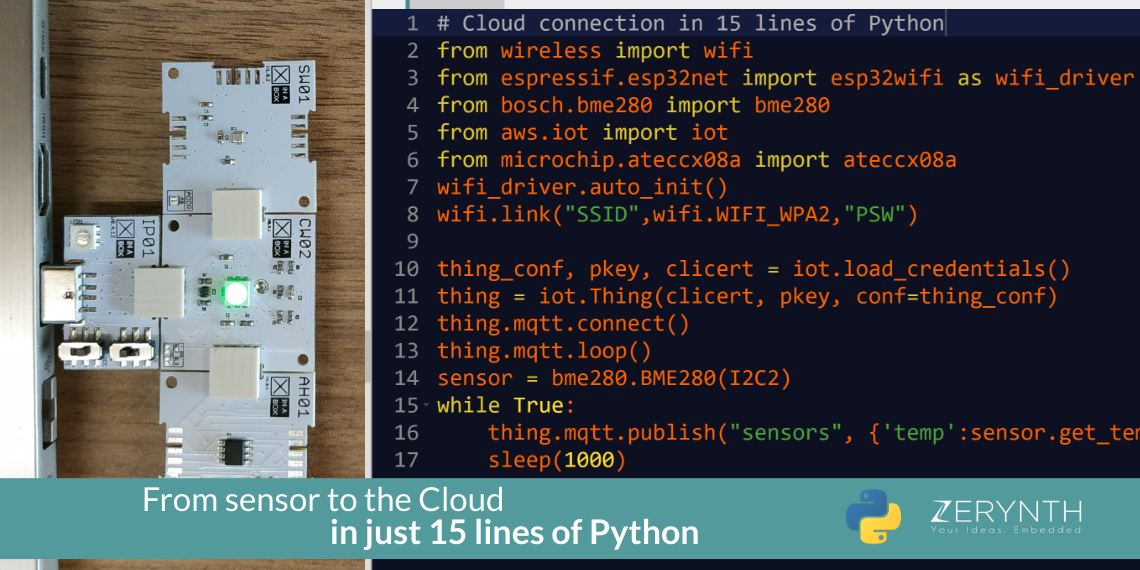 In short, the demo teaches you how to send sensor data to the Cloud with just 15 lines of code in Python, with the help of Zerynth Studio.
You'll also learn how to make that Cloud connection secure, by generating a private key.
During this same weekend, on April 13th and 14th, there's a Zerynth workshop in Vienna, too. So, if you're not in Italy for the DevFest, perhaps you want to join the workshop in Austria. What can we say – we're getting more popular every day.
Download Zerynth Studio
Maybe you want to test out Zerynth Studio yourself before you join the workshop. Download Zerynth Studio and start a project of your choice. It's free and available for Windows, Linux, and Mac OS.
Start programming 32-bit microcontrollers in Python today.