Are you ready for our next Live Support session? If you've watched the first one we held last week, then you know why you can't miss the next one.
Our Live Support session program is the perfect chance to learn about IoT development straight from the experts – Zerynth developers. Each week we take a set of questions that our users have asked on the community Forum, and we answer them live, on the Zerynth YouTube channel.
In an hour and a half long session, each question gets worked on by example.
Last week, our embedded software engineer, Karim Hamdy, went through all the questions. He answered them by showing an example, he was sharing on his screen. So, everyone got to see how a Zerynth developer would use the tools.
Next Live Support session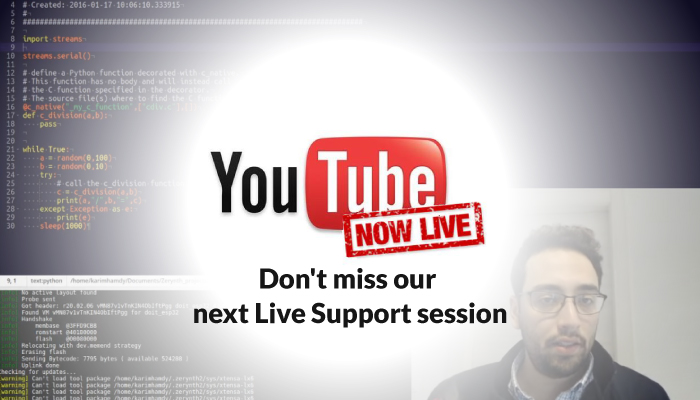 Tune in next Tuesday, at 4 pm CET (April 7th), on our YouTube channel, and see what questions we're going to answer.
And don't worry if you missed the first session, you can always watch it again:
Subscribe to our YouTube Channel
If you're not subscribed to our YouTube channel you're mission on a lot of great content. It's not just the Live Support sessions that we're offering – we also have an educational webinar program called Zerynth Continuous Learning. For this first webinar, Daniele Mazzei, our Co-founder, and Chief Innovation Officer talked about User Experience design in the context of IoT.
As you can see, we're doing our best to offer useful and educational content during this period where we all need to stay at home.
Don't hesitate to write to us if you have any questions or suggestions about these learning programs. Open a thread on the Forum, or tag us on social media, or use the contact form on the website.