Right before our third Zerynth Live Support session, we wanted to give you a brief overview of the second session. What did we talk about? What answers did we give? Read on and find out.
What is Zerynth Live Support?
Every week, we take 5 of the most interesting questions our users have asked on the Forum, and we answer them during a live session on the Zerynth YouTube channel. 
Last week we had a 40 min session, where we handled questions of various complexity. For example, we answered how to use the D12 Analog Input on the ESP32 DevKit C. But we also explained how to use the Watchdog to secure the firmware in Zerynth.
If you have a question about our tools, or you need help, don't hesitate to tell us about it on the Forum. 
You can watch the whole session below:
Join our third session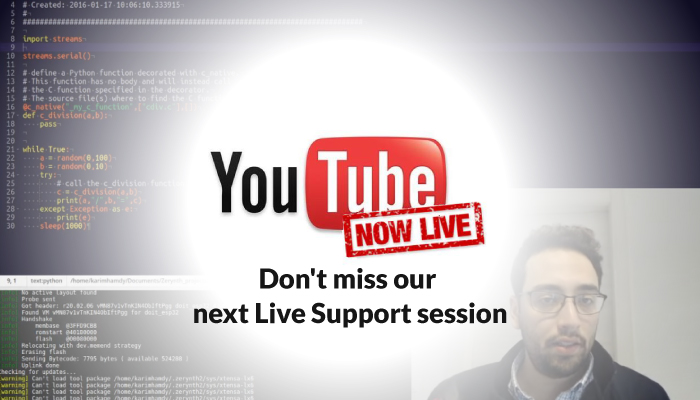 Our third Live Supports session is about to start in less than two hours – 4 pm CET. So head over to the Zerynth YouTube channel, and learn about IoT development from the experts.
If you're not subscribed to the channel yet, now is a great time. It's not just the Live Support that we're offering. We also have a Zerynth Continuous Learning series. A series designed so that every member of our development team gets to present a topic he's most passionate about. This way, each month the whole Zerynth team has the opportunity to learn something new.