Customer: Fortebit Srl (Italy)
Customer description: Fortebit focuses on speech recognition, location services, robotic solutions, Internet of Things.
Keywords: GPS/GLONASS vehicle tracker, open-source
Fortebit wanted to offer customers a solution which can easily adjust the vehicle tracker to any type of application (cars, heavy machinery, trucks, etc.) all the while allowing a secure connection to any type of cloud service for fleet management. Also, delivering FOTA was one of the top priorities.
Polaris was first applied when our partner RS Components was looking for a way to track cyclists, during their charity race across the UK (Tour de Branch). Enabling Zerynth on the Polaris tracker was the perfect solution.
Easy to use Python-programmable vehicle tracking platform
Tracking temperature, humidity, pressure, and air quality data with one device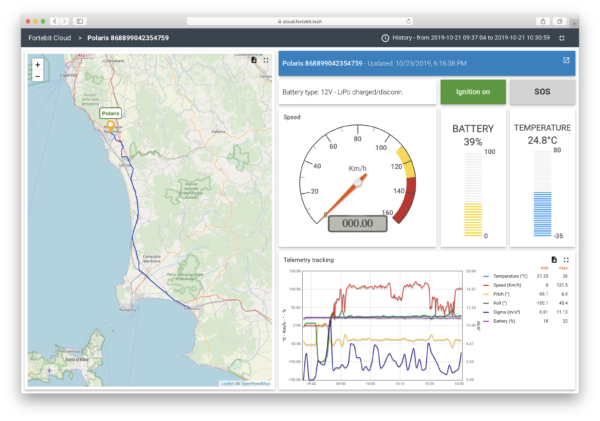 Polaris is a Zerynth-powered Python programmable open IoT platform. It is designed for remote logging and Cloud applications, with an excellent GPS/GLONASS vehicle tracker, available with 2G, 3G, LTE, NB-IOT modem.
The full Python application is released open-source.
Tracking vehicles while collecting valuable air-quality data
Easy to use dashboard with precise location reporting
Customers can easily adapt the application code to their needs, since it's available open-source, thanks to Zerynth.